Steel Lockers Red Bank. Employee, Medical and School lockers stocked locally. Proudly serving New Jersey since 1909. Complimentary Layouts, Professional Installations, Free Delivery.  LockersUSA's 109,000SF facility stocks steel, wood, plastic, HPDE and Polymer Lockers. Orders can be delivered assembled or built on site by our staff or yours. Need assistance with ADA compliance? Let us know Phone (917) 701-5795.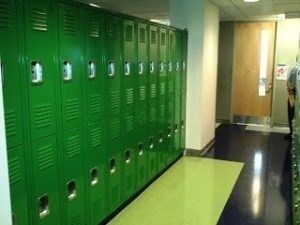 Lockers stocked in single tier – full height doors, two tier stacked doors, 6 tier. Recessed stainless pocket handles also in stock. Locks options include builtin combination locks, Combination or keyed padlocks. Combination locks are programmable with 5 combination numbers per lock. Once an employee leaves the combo numbers can be changed by management. Master keys available for management. Control charts provided to list the person the locker is assigned to, Its current combo numbers and assigned locker. Each user is given instruction tags detailing the locker #, The combo # and how to use it in English and Spanish.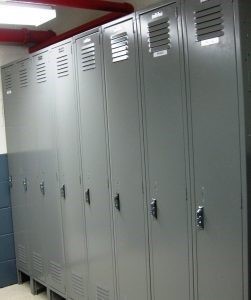 Standard colors Tan, Blue or Gray ship in 48 hours, Other powder coat colors no additional cost delivered in 4-5 weeks. Ideal for work, medical, schools, gyms, hotels, law enforcement. Built to last at the lowest overall cost. Lockers can be delivered KD (unassembled) or Assembled. Stocked in single tier – full height, double tier stacked and box lockers in various standard sizes. Locker Benches also in stock.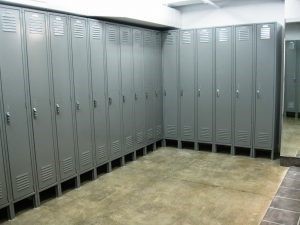 Locker Benches stocked from 4′ wide to 8′ wide with laminate maple butcher block tops. the pedestals for the lockers can match the color of the lockers on request.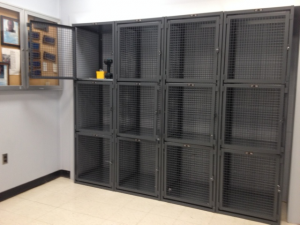 Locker benches wider than 6′ have three pedestals per bench. Our  locker techs provide complimentary layouts six days a week feel free to call P(917) 701-5795 for immediate onsite assistance. If you have a drawing that needs quoting email it to us at Sales@LockersUSA.com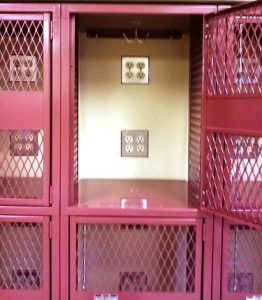 Our NJ  inventory also includes welded wire lockers stocked in 48 standard sizes. Welded wire lockers can be delivered assembled ready to use. Each welded wire locker has a welded hasp for padlocks. solid panel welded wire backs can be attached or full height doors for easy access and loading or equipment. Electric sockets can also be installed upon request.
LockersUSA.com New Jersey office is open Monday – Friday 6AM – 5PM contact us today for immediate assistance. Sales@LockersUSA.com
Steel Lockers delivered daily to Red Bank 07701, Shrewsbury 07702, Tinton Falls, Eatontown 07724, Middletown 07748, Holmdel, Hazlet, Rumson, Old Bridge, Marlboro 07746, Manalapan, Wall Twp, Manasquan, Howell Twp, Perth Amboy 08862, Edison NJ 08818, Woodbridge Twp, Carteret, Sayreville, Paramus, New Jersey.