Mail Room Shelving. Space efficient storage solutions for mail rooms in residential and office buildings. In today's internet world mail rooms are filled daily with Amazon and Internet deliveries. Utilizing the mail rooms space can be optimized with LockersUSA's Mailroom Shelving and Rack. Designed to be easy to use for staff employees and tenants. Label holders can be provided to assign locations for each tenants boxes. Heights of the shelving levels can be easily adjusted for various size boxes. Heavy Large Boxes should be placed on the bottom shelf. Shelf depths for mail rooms stocked from 12″ deep to 48″ deep. ideally in most residential buildings 18″ to 24″ seems to be ideal for most boxes.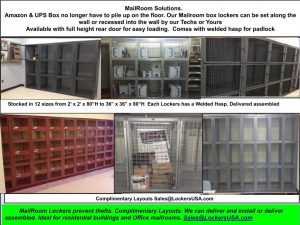 Max heights for residential buildings in unmanned mail rooms should be a height easy and safe for all to retrieve their deliveries. Rolling ladders or library ladders can be extremely useful for our of reach heights.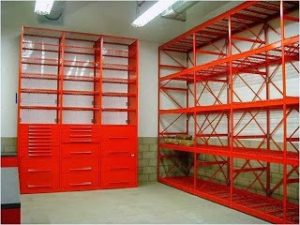 Our Shelving and Rack is designed for easy height adjustments every 1-1/2″. No Bolts or nuts. Clip Type shelving can be adjusted in less than 1 minute.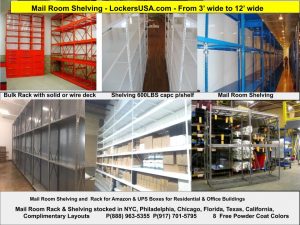 Our shelving has been designed so that doors with locks can be added if needed for secure storage of deliveries. LockersUSA.com provides Complimentary Mail Room Layouts daily. Contact us today for immediate assistance Sales@LockersUSA.com
Mail Room Lockers #1888 shown above provide secure, visible storage. Stocked Nationwide in 24 sizes in Three tier shown above, double tier – 2 stacked doors and single tier – 1 full height door. Either welded wire backs can be attached or full height access doors attached to the back panel for easy access to all lockers to disperse boxes, tools, equipment, etc.
LockersUSA.com stocks shelving and rack in New York City, Chicago, Philadelphia, Tennessee and Los Angeles.
Mail Room Shelving, Mail Room Shelving NYC, Mail Room Shelving NJ, Mail Room Shelving Brooklyn, , Mailroom Shelving New York City.