Steel Lockers New York City. Ready to ship. Stocked locally, Complimentary Layouts, Lowest Cost. Lifetime Warranty. New York City's Largest Stocking Master Distributor, Ideal for Employees, Education, Medical, Law Enforcement, Retail, Hotels and Restaurants.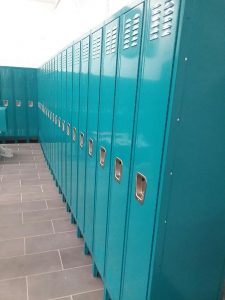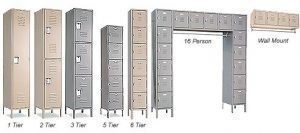 Lockers come in several types as shown above. 1 Tier Lockers are the most preferred choice. Available space and the number of lockers in most cases dictates the type locker to select.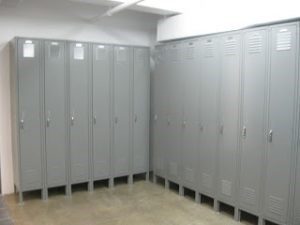 2 tier lockers can double the amount of lockers in the same space as single tier and can hold half coats, back packs, clothing, shoes, etc. 6 tier lockers are widely used when space is very tight. Ideal for backpacks, laptops, folded clothes.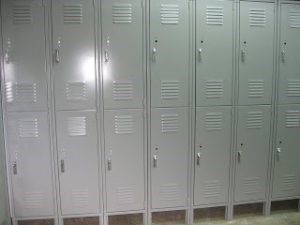 The most popular locker width nation wide is 12″ deep. the best depth for the money is 18″, 18″ is used by Law enforcement, Schools, Gyms and Work. Larger is always preferred however the size listed works well for all industries. Our Locker specialists provide complimentary layouts six days a week. Utilize our teams extensive experience for code compliant, space saving layouts. Sales@LockersUSA.com
Locker Locks. LockersUSA stocks padlocks, combination padlocks and built in padlocks. Combination padlocks can be delivered with master keys and control charts. The control charts detail the locker number, users name and combination number. Also listed on the control chart is 4 additional combinations that can be used after someone leaves. when all combinations numbers have been used the combo can be reset to the first combo series.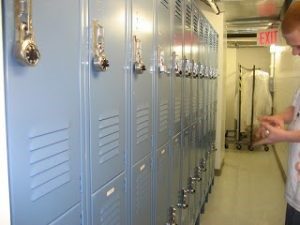 Lockers can be delivered with flat tops or sloping hood, Closed in legs or bases, End finishing panels and ask about our large inventory of ADA Lockers and Locker Room Benches.
Steel Lockers New York City  provides complimentary Locker Room Layouts daily to NYC, Brooklyn, Queens, Bronx, Staten Island, Harlem, Bronx, Yonkers, Westchester and Long Island.
Steel Lockers New York City, Metal Lockers New York City, Steel Lockers NYC, Metal Lockers NYC, ADA Lockers NYC, Hallway Lockers NYC, School Lockers NYC, Employee Lockers NYC, Law Enforcement Lockers NYC, Penco Lockers NYC, Lyon Lockers NYC, Hallowell Lockers NYC, Locker Locks NYC,