DEA Cannabis Storage Cages NJ. Are you opening a Recreational Cannabis Dispensary in New Jersey? . Not sure of what code to be compliant to? NJCRC or DEA Compliant Cannabis Cages. Our New Jersey Techs provide Complementary Code Compliant suggestions, Layouts and Cannabis Cages Quotes. Contact us today to schedule a Cannabis Cage Quote either onsite or online. email: Sales@LockersUSA.com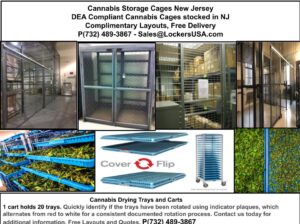 Proudly serving New Jersey since 1909. Our Techs take the stress out of selecting the right Cannabis Storage Cage code to comply to. Should your cage be DEA Rated or NJCRC compliant? LockersUSA is here to help. Our Techs have extensive experience installing code compliant cages.
Many Retail Cannabis Dispensary's we have visited have limited space for Cannabis storage. Our Techs at no charge will provide a Code Compliant Cannabis Cage layout with interior storage suggestions to help increase the cannabis storage capacity by 50%. AS your needs increase space wise, Our Techs can retrofit the Cannabis Cage or relocate it when needed. Call us for immediate assistance P(732)489-3867 or Sales@LockersUSA.com
Door types: Cannabis Cages can have Hinged doors or Slide doors. DEA Compliant Cages require self closing doors. We stocked both hinged and slide doors with self closing hydraulic door closers. Click here to see video Cannabis cages nj
Our 120,000 Square foot facility also stocks Welded wire lockers in 24 standard sizes.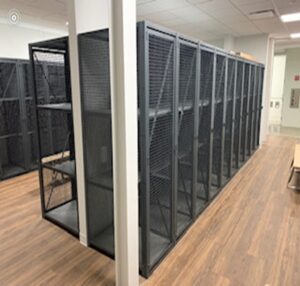 Employee lockers and Storage – Security Cages for every application. Contact us today for immediate assistance Sales@LockersUSA.com
Cannabis Storage Cages NJ, DEA Cages NJ, DEA Cannabis Cages NJ, NJCRC,