Building Access Cages. Restrict visitors from entering your facilities unattended door entrances with a Building access cage. Ideal for Warehouse, Manufacturing, Office, Schools anywhere increased security is needed.  Manufactured with high strength welded wire in six standard powder coat colors. Building access cages can significantly increase the buildings security, Cost effectively and long term.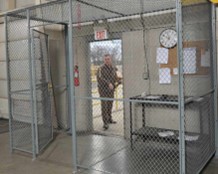 Building Access Cages are stocked locally in our New Jersey 120,000 square foot distribution center. Proudly Serving the New York New Jersey Metro area since 1909. Our team provides code compliant Layouts and quotes daily.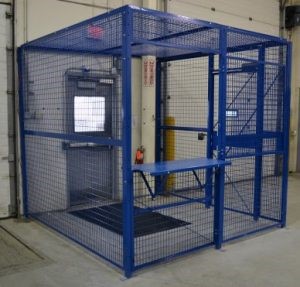 Most entrance cages have 4′ wide x 7′ high hinged doors. Manufactured with heavy duty welded wire with a powder coat color of choice. Driver entrance cages can be built to any size. from 4′ deep x 4′ wide x 7′ high to any size needed with our standard cage panels and doors. Even if your building has locked doors, Adding a building access cage will reduce the chances of an unauthorized visitor entering your building if the exterior door is left open.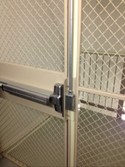 Additionally interior perimeter security cage can restrict the access by unauthorized visitors from proceeding further into your facility.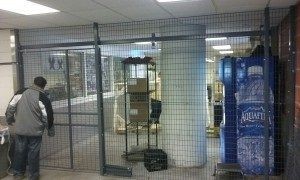 Both Facility access cages and interior perimeter cages can be controlled remotely with electric strikes or mag locks. Once a visitor enters the space to gain access, Management and or security cab view the visitor via camera. The push a button from their desk to allow them to proceed. Employees can be provided with a key fob, card swipe of push button code to gain access. Doors can arrive with interior push bars for quick exit.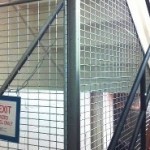 Access cages AKA Driver entrance cages and perimeter cages are long term, Maintenance free, Cost effective solutions to keeping your facility safe. Contact us today for immediate assistance. Sales@LockersUSA.com or P(917) 701-5795.  Our team provides code compliant Complimentary Layouts daily. Please use the quick form in the link or contact us today for immediate assistance.
Building Access Cages New Jersey, Driver entrance cages NJ, Warehouse Entrance cages NJ, School Doors Entrance Cages New Jersey, School Safety Security, Building entrance cages delivered daily to New Jersey, NYC, Queens NY, Brooklyn, Queens NY, Bronx, Philadelphia