Metal Lockers New Jersey. Ideal for work, gyms, office, schools, medical, law enforcement. Complimentary layouts. Stocked locally. Lowest overall cost. Buy Local and save time and money.  LockersUSA.com stocks Metal Lockers in New Jersey .  The type of locker is typically based on available space and the position of staff members at the lowest overall cost.  Our New Jersey Locker specialists can assist with locker type selection and space saving layouts. P(917) 701-5795.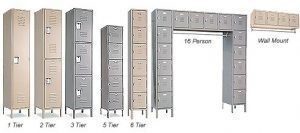 Box lockers also known as 5 Tier, 6 Tier lockers are widely used in New Jersey. 6 tier box lockers shown above are 78″ high with legs. The most popular width is 12″ wide. Depth of the lockers is also key. 18″ deep is ideal for back packs, Shoes, Etc. Our Locker specialist will provide a complimentary space saving, Code compliant layout based on your specific needs. For long coats and uniforms single tier lockers are best suited. Single tier lockers allow for coats and uniforms to hang inside the locker. Each single tier locker comes with a hat shelf and coat hooks. The industry standard size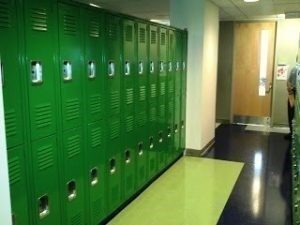 for single tier lockers shown above is 12″ wide x 18″ deep x 78″ wide.  Two tier Lockers shown below maximize space well. 2 tier lockers (stacked) allow for hanging of coats (to the hip) to hang neatly. Two tier lockers come with coat hook. The ideal size for 2 tier lockers (shown above) is 12″ wide x 18″ deep x 78″ high (includes 6″ legs. each locker is 36″ high.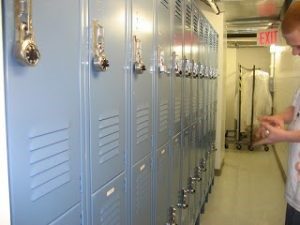 Metal Lockers New Jersey, Steel Lockers New Jersey, Metal Lockers NJ, Steel Locker NJ, Metal Lockers Newark, Metal Lockers Paterson, Metal Lockers Jersey city, Metal Lockers Toms River, Metal Lockers Clifton, Metal Lockers Cherry Hill, Metal Lockers Passaic, Metal Lockers Old Bridge, Metal Lockers East Orange, Metal Lockers North Bergen.