Wire Partition Elizabeth NJ. Woven and Welded Wire Partition in Elizabeth. Ideal for Storage Cages, Warehouse Cages, DEA Cages, Machine Guarding Safety Fence and Tenant Storage Cages. Sturdy, Framed woven wire in 10ga thick. Cages can be just one single run, ie: wall to wall, Two sided which would be the front of the cage with door and one sided. Three sided cages have the front of the cage and two sided. Four sided cages have woven or welded wire cage panels on 4 sides with a door. Cages can be installed with or without ceilings.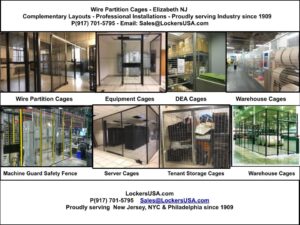 Doors stocked from 3′ wide to 12′ wide in single,  hinged door, Double, Hinged doors, Single slide doors or bi-parting slide doors. Lock options include cylinder locks, Welded hasp for padlocks, Programmable locks with push button, key fob, card swipe for up to 200 employees. Electric strike locks can also be installed. Doors can have hydraulic door closers and hinged doors can be delivered with interior push bars.
Our New Jersey office provides Complementary Layouts. Please fill out the quick form in the link above or call us for immediate assistance P(917) 701-5795.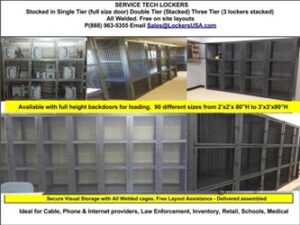 In addition to Wire Partition in Elizabeth NJ, Our 120,000 square foot facility also stocks welded wire lockers in single tier – full height doors, Two tier – stacked doors and three tier – stacked doors. Ideal for secure, visual storage of employees equipment and communications equipment.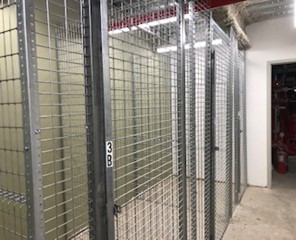 Tenant Storage Cages stocked New Jersey in single tier – full height doors and double tier in 24 standard sizes. Ideal for Condo buildings, Apartment complexes and town homes. Manufactured with framed 1/4″ thick welded wire  in rust resistant galvanized, grey or black. Doors can be 3′ wide or 4′  wide. Each door has the industries only full height anti-theft lock bar. Tenant Storage Cages Generate excellent revenue. Today, Most residential buildings charge a monthly rental fee for residents to use a storage cage. Cage rentals range from $60.00 to $75.00 per month. A basement with 50 cages renting out for just $60.00 each will generate $36,000.00 per year in revenue. The ROI – return on investment with standard size cages in one year or less. Request on Complementary layout and quote today. Sales@LockersUSA.com
Wire Partition Elizabeth NJ.