Machine Guarding Perimeter Fence NJ. Proudly serving New Jersey since 1909. Enclose moving machinery, conveyors and hazardous equipment with Machine Guarding Perimeter Fence. Stocked in New Jersey. Ships in 48 hours.
Complimentary code compliant layouts. Arrives partially pre-assembled. Our Machine Guarding Techs can install or provide onsite guidance for your staff to install. Designed for fast installations. Panels can be removed to access machinery when needed. Doors stocked in our 190,000 square foot New Jersey facility 5′, 6′, 7′ or 8′ high in sing doors, double swing doors, single slide doors and double slide doors. Available with standard code compliant latch, Cylinder lock or Interlock latch that turns off machinery automatically.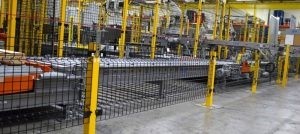 Guarding panels manufactured with 8ga thick welded wire grids in powder coat black, Universal posts are 2″ x 2″ by the height needed. Each post has 2″ x 6″ welded foot plates in powder coated safety yellow.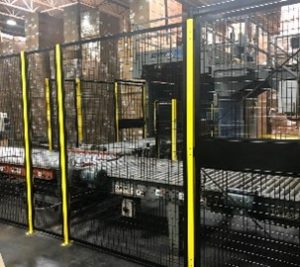 Guarding machinery you use protects your staff, keeps morale high, lowers your cost of doing business by maintaining productivity while reducing downtime, and will help you meet OSHA and other safety regulations. And we can have it ready to ship within 2 days! Our pre-fab  modular system consists of six post heights, six styles of doors, and over 30 pre-fabricated welded wire-mesh panel sizes. All pieces assemble and install precisely and easily.
You'll enjoy worker safety, less downtime, compliance with federal safety regulations, and have fewer machine-guarding problems to solve.
Also in stock is Delivery Entrance Cages that will prevent visitors from roaming the warehouse without authorization. Delivery Entrance cages can be provided in any size with our modular panel sizes. Locking Service windows can also be added to pass through deliveries. Includes exterior counter for signing documents.
Contact us today for immediate assistance. Sales@LockersUSA.com