Server Rack Cage Philadelphia. Server Cage and and Data Center cages stocked in our Philadelphia distribution center. Cages can range from small wall mount cages and any size cage to enclose on server rack or 50. Meet your client and corporate requirements cost effectively with quality server rack cages in Philadelphia. LockersUSA manufactures and stocking distributor of Server Cages and Security Storage Cages. Proudly serving Philadelphia since 1909. Prevent unauthorized access, Meet compliant requests cost effectively, 5 year warranty, Save on today high freight rates, Buy local, Free daily deliveries. Our local office provides Complementary Layouts and quotes. Please use the quick form in the link above or email us for immediate assistance. Sales@LockersUSA.com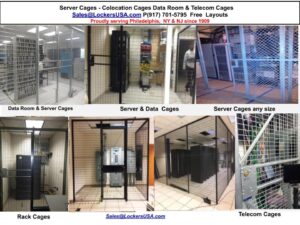 Server Cages are strongly recommended to enclose your network servers. Information regarding payroll, medical, credit cards, employees must be secured on-site. Sever cages provide secure, visible enclosures, Limiting access to only authorized employees. Lock options include cylinder locks, Programmable locks with push button, card swipe, key fob, Mag Locks and electric strikes.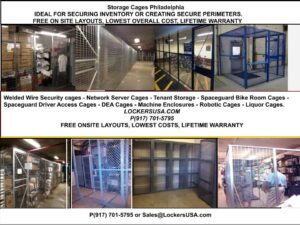 Stocked locally, Our Philadelphia distribution office provides Complementary Layouts. Some Server – Data or Telecom Cages have greater requirements. Our techs can also install the cage above the drop ceiling and below the access floors.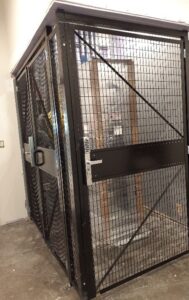 Telecom and Equipment Cages also stocked locally. Equipment cages are ideal for enclosing electrical panels, Pumps, Meters, Moving machinery and Conveyors. Contact us today for immediate assistance. Sales@LockersUSA.com
Server Cages Philadelphia, Server Rack Cages Philadelphia, Tenant Storage Cages Philadelphia, Telecom Cages Philadelphia, Machine Guarding Safety Fence Philadelphia PA,