Storage Cage Philadelphia. Welded wire storage cages for inventory, Tenant Storage Cages and Security. Proudly serving Philadelphia since 1909. Built to last our storage cages are manufactured with frame welded wire grids in 10ga and 4ga thick. 4ga thick welded wire is approx 1/4″ thick. Doors for storage cages stocked in hinged and slide from 3′ to 12′ wide. Lock options range from welded hasps for padlocks, cylinder locks, key fob, card swipe, electric strike or we can provide interchangeable cores to match you existing system.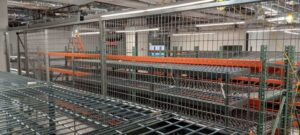 Storage cages can be in various shapes from a straight run or 2,3 or 4 sided with or without a ceiling. Cost reduction can be created by using the back and or side walls of the room as part of the enclosure. Our Philadelphia Techs provide Complementary Layouts either online or onsite six days a week. Feel free to use the quick form in the link above or contact us for immediate assistance.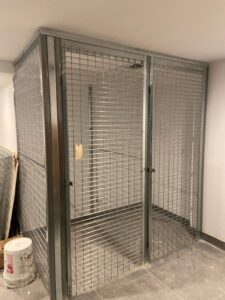 Our 120,000sf Philadelphia distribution center also stocks Tenant Storage Cages in single tier – full height and two tier- stack doors, In 48 standard sizes. Doors can be 3′ wide or 4′ wide. Each door has a full height anti-theft lock bar and welded hasp for padlocks.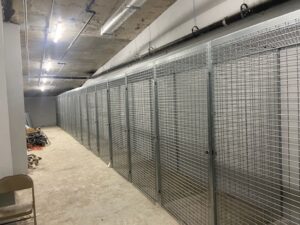 Most developers have the tenant storage cages installed directly to the rooms walls and floors. Backs, tops, floors, shelves can be added on request. Units off the wall come with backs.
Tenant Storage Cages in Philadelphia generate good revenue. Today most residential buildings charge a monthly rental fee for each storage cage. Rental rates range from $65.00 to $215.00 per month. A basement with 40 cages renting out at $65.00 per month would generate $31.200.00 per year in revenue. The ROI for standard size cages is typically one year or less.
Our team provides complimentary tenant storage cage layouts in the Philadelphia area daily. Contact us today for immediate assistance. Sales@LockersUSA.com