Security Cages Center City Philadelphia. Welded wire mesh security cages in Philadelphia. Secure inventory and equipment, Prevent access by unauthorized visitors with welded wire security cages. Made in the USA, Proudly serving Philadelphia since 1909.

Storage cage doors stocked from 3′ wide to 12′ wide in single sided hinged doors, Double hinged doors, Single sided slide doors and Bi-parting slide doors.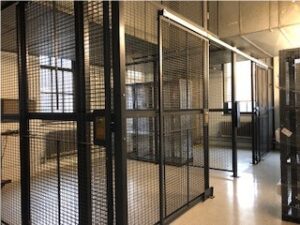 Doors can have cylinder locks, Welded hasps for padlocks, Push button locks, Card swipe or key fobs. Electric strike and Mag locks are also available. Interior push bars can be installed prior to delivery on hinged doors. Self closing door closers cab be installed on hinged or slide doors. Our cages are manufactured with 8ga welded wire in Rust resistant galvanized steel, gray or black.
Our Philadelphia Service Techs provide Complimentary Layouts and quotes daily. Please fill out the quick form in the link above or contact us for immediate assistance. Most cages ordered today are 7′ or 8′ high. Our prefab modular cages panels allow for quick installation to 48′ high with or without ceilings in the same welded wire material.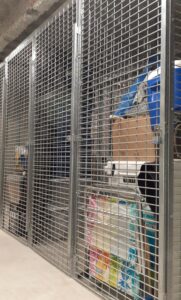 Tenant Storage Cages are also stocked in our Philadelphia distribution center in single tier – full height cages and double tier – stacked doors.  Stocked in 48 standard sizes. Manufactured with 4ga thick welded wire in rust resistant galvanized, Grey or black. Each door is hinged and swings out, Lock left or lock right. Doors have the industries only anti-theft lock bars, Welded hasps for padlocks and number tags. Most residential buildings have the tenant storage cages installed directly to the rooms walls and floors. Tops, backs, floors can be added on request. Storage cages off the walls come with backs in welded wire in the same color as the cages.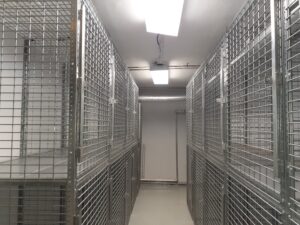 Tenant storage cages in Philadelphia generate excellent revenue. Most residential buildings in Philadelphia charge a monthly rental fee for each storage cage. Rental rates range from $65.00 to $150.00 per month depending on the size.
A building with 40 tenant storage cages renting our for $75.00 per month on average will generate $36,000.00 per year in revenue. On average standard size storage cages pay for themselves in less than on year. Our team provides Complimentary Layouts and Quotes daily. Contact is today for immediate assistance. Phone (888) 963-5355.
Security Cages Philadelphia, Wire mesh storage cages Philadelphia, Tenant Storage Cages Philadelphia,