Medical Marijuana DEA Cages NYC . DEA Compliant Medical Marijuana and Cannabis Growing Cages.  Woven Wire Cages in stock. Complimentary layouts, Lowest overall cost. Marijuana DEA  Cages NYC West 14th St. takes the stress out of becoming compliant. Our specialists provide complimentary code compliant  layouts. Delivery and installations in NYC, Brooklyn, Queens, Staten Island and the Bronx daily.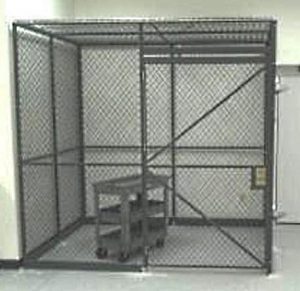 Manufactured with woven wire 10ga partitions and doors. Our modular design allows you to buy the size needed and easily expand as the business grows. Doors stocked in Hinged and Sliding. Medical Marijuana cages can be built up top 24′ high. In many cases the size of the cage can be significantly reduced with space efficient storage layouts of the room. LockersUSA.com specialists can provide complimentary layouts to maximize the space needed inside the cage. Typically our specialists can increase existing storage space by over 50% or reduce the storage space needed by 50%. LockersUSA delivers daily from New York City and Nationwide form 8 nationwide distribution centers. Our team will help you comply with Federal Regulation 21 CFR 1301.72 contact us today for immediate assistance.
LockersUSA  provides DEA Code Compliant  Cannabis Cages for every phase of cannabis production process including:
Mother Rooms
Clone Rooms
 Growth Rooms
Flowering Rooms
Drying  Rooms
Extraction Rooms
Compounding Rooms
MIP Production
Packaging Rooms
Shipping & Receiving
RGA Storage
Medical Marijuana DEA Cages NYC can provide major cost savings. No additional temperature controls, lighting or sprinkles  needs to be added as air and light pass through. Contact us today for Complementary layouts, pricing, Specifications. Our offices and distribution centers are open Monday through Friday 7AM – 5PM and Saturdays 7AM to 4PM.
Medical Marijuana DEA Cages NYC, Marijuana DEA Cages NY, Cannabis Cages NYC, Medical Marijuana Cages Brooklyn, Cannabis Cages Brooklyn, Cannabis Dispensary Cages Bronx,  DEA compliant Cannabis Cages, Fedderal Regulation 21 CFR 1301.72,  Medical Marijuana DEA Cages NYC daily deliveries New York City Bronx, Queens, Brooklyn, Staten Island, Long Island City, Long Island NY. Woodstock.