Storage Cages Atlantic City. Proudly serving New Jersey since 1909. Manufactures and Distributors of welded wire storage cages.  Manufactured with 8ga thick welded wire, woven wire or expanded metal in rust resistant galvanized, black, gray, blue or safety yellow.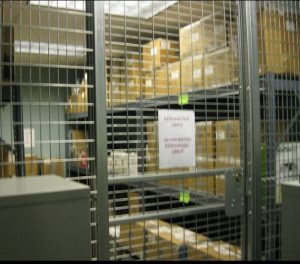 Doors for our security cages stocked from 3′ wide to 12′ wide in single hinged, double hinged, single slide and bi-parting slide doors. Lock options include cylinder locks, welded hasps for padlocks, Programmable locks in push button, card swipe or key fobs. We can also prep the doors for your lock systems. Additionally electric strike locks, magnetic locks, Auto door closers for both hinged or slide can be included. Electric strike and Mag locks can be opened remotely from the managers or security's desk.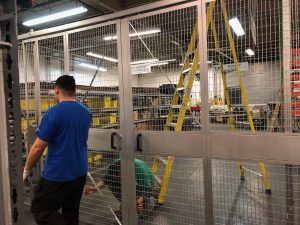 Storage cages can be built quickly with our modular stacking panels to 48′ high. Most cages today are 8′ high with or without ceilings in the same material and color.  Locking Service windows can be installed in existing cages or new cages. Idea for accepting deliveries or handing out inventory. The exterior side of the service window has a counter to stage- slide boxes in or out of the cage or to sign paperwork. Costs can be reduced on storage cages by including the rooms rear and or side walls. Our New Jersey facility provides Complimentary Storage Cage Layouts. Feel free to use the quick form in the link above or email us for immediate assistance. Sales@LockersUSA.com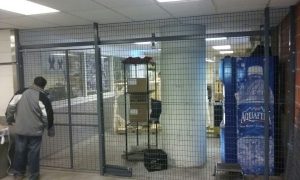 In addition to Storage Cages our 109,000sf facility also stocks Tenant Storage Cages, DEA Pharmaceutical Cages, Machine Guarding Safety fence to enclose moving machinery, Equipment and Conveyors. Our Tenant Storage Cages provide several unique features and benefits at the lowest overall cost. With the industries only 5 year warranty. Manufactured with 4ga thick welded wire which is more than double the thickness of 10ga thick. Each door has the industries only full height anti-theft lock bars with welded hasps for padlocks.
Tenant Storage Cages in New Jersey generate excellent revenue. Today most residential buildings charge a monthly rental fee averaging $125.00 to $350.00 per month per cage depending on the size. A room with 45 cages renting outfor $125.00 per cage will generate $67,500.00 per year in revenue. The return on investment averages 7-8 months. Contact is today for immediate assistance. We look forward to being of service. Sales@LockersUSA.com
Security Cages delivered daily in New Jersey and Philadelphia.