Tenant Storage Cages Lodi. Complimentary Layouts, Quick delivery, Lowest overall cost. Lifetime Warranty. Generates good Revenue. Tenant Storage cages in  Lodi have become a highly sought after amenity for potential residents for Condo's and apartment complexes. Tenant Storage cages in Lodi have also become a Revenue Generator of developers, Landlords and Condo Boards. Most buildings now charge a monthly rental fee for onsite storage. In Lodi and surrounding areas tenant storage cages typically rent out from $75.00 to $150.00 per month. A tenant storage room with 50 tenant storage cages renting out on average for $95.00 per month will generate $57,000.00 per year in Revenue, Combined with LockersUSA lifetime warranty, Tenant Storage cages would be a great investment. The Tenant storage cages pay for themselves in just 7-9 months on average.  Complimentary layouts either on line or onsite are available six days a week.  Our team provides cost saving, code compliant layouts for any size space.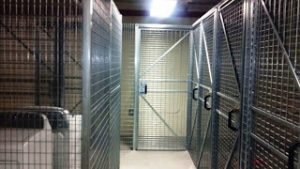 LockersUSA's Tenant Storage cages are manufactured with 4ga welded wire. Each tenant storage cages comes with a full height anti theft lock bar and welded hasps for padlocks or cylinder locks. The most popular types of tenant storage cages are single tier – Full height cages and Double Tier – Stacked Tenant Storage lockers. Two Tier is ideal to maximize the foot print of a small tenant storage room.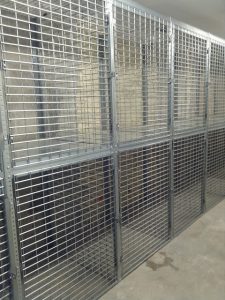 Stocked locally in heavy duty galvanized and 5 powder coat colors in 14 different sizes.  For complimentary layouts and quotes contact us today for immediate assistance. Sales@LockersUSA.com or P(917) 837-0032.
LockersUSA also stocks Wall Mount Bike Brackets that allow bike to be stored just 12″ apart. Easy to use, durable, Manufactured wit all welded steel with a shiny black powder coat finish. Attached to each of our bike brackets is a 5′ long cushion coated security cable that can be wrapped around the bike frame, both rims and secured with the owners lock. Backed with the industries only lifetime warranty.
Also stocked in Bergen county is  welded wire security cages, Server and Data Room Cages, DEA Pharmaceutical Cages, Loss prevention cages, Telecom and equipment enclosure cages. LockersUSA deliveries from our New Jersey, NYC and Astoria Queens facilities daily. Contact us now for immediate assistance. Sales@LockersUSA.com or P(917) 837-0032.
Tenant Storage Cages Lodi, Tenant Storage Lockers Lodi, Tenant Storage Cages Lodi NJ. Wall Mount Bike Brackets Lodi, Security Cages Lodi, Tenant Storage Cages delivered daily to Lodi, Tenafly, Garfield, Hasbrouck Heights, Passaic, Hackensack, Leonia, Palisades Park, Edgewater, All of New Jersey.