Machine Guarding – Safety Perimeter Cages Connecticut. Enclose equipment and robotics with wire mesh machine guard cages. Free Layouts, Immediate delivery. Protect People and Equipment with welded wire machine guarding cages. Manufactured with 10ga framed welded wire , In code compliant heights. LockersUSA delivers throughout Connecticut daily.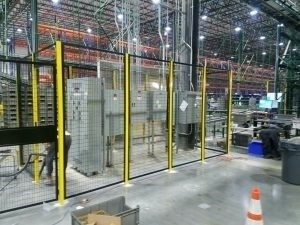 Versatile  machine-guarding fencing,  Allows  for a quick panel-removal time for access to equipment for maintenance. This system meets the latest OSHA and ANSI standards, but more importantly, it allows for quick installation and removal, substantially saving on installation and maintenance costs. Saves time and money on installation, especially on large-scale fencing. In Stock Ready to be delivered.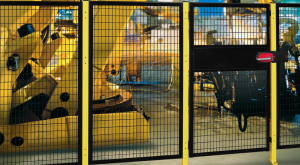 Allows for quick removal of panels for maintenance
Includes captive fasteners, which stay attached to panel to prevent misplaced hardware
Meets requirements for new ANSI code (ANSI/RIA R15.06-2012)
Complimentary Layouts and Professional Installations
Ships in 48 hours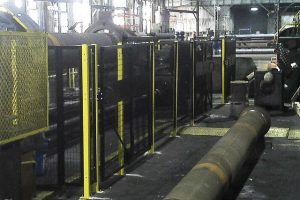 Panels:
10-gauge welded-wire mesh with 11/4" x 21/2" grid in Powder Coat Black or Safety Yellow
openings. Wire mesh framed utilizing 14-gauge 11/2" x 11/2"
steel angle.
Brackets
:
Galvanized finish. Attaches to posts for a
universal configuration.
Doors:
Hinge, Hinge Pair, Clear Access Slide, and Clear Access Slide
Pair. Equipped with pull handle. Standard locking devices: Key Lock,
Interlock Handle, or Snaplock.
Installation:
All assembly hardware supplied.
Finish:
Panels are black powder-coated; posts yellow powder-
coated. Other powder-coating colors available.
Options:
Padlock locking device. Polycarbonate panels. Custom
configurations available. Interlock devices.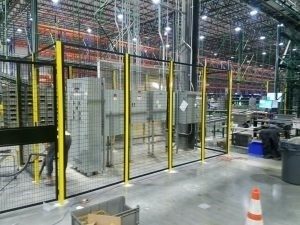 Contact LockersUSA now for immediate assistance.  Our Machine Guarding Specialists will assist you with designing the code compliant system needed.
Sales@LockersUSA.com
or P(888) 963-5355.
Machine Guarding – Safety Perimeter Cages Connecticut, Robotic Perimeter Guarding Connecticut, Wire Mesh Perimeter Guard Connecticut, Machine Guard Fencing Connecticut. Machine Perimeter Guard Connecticut, Machine Guarding Panels Connecticut, Machine Guarding Systems Connecticut, Mesh Guard Panes Connecticut, Safety Fence Connecticut,  Machine Guarding – Safety Perimeter Cages delivered daily to Bridgeport, New Haven, Stamford, Hartford, Norwalk, Waterbury, Norwalk, Danbury, New Britain, all of Connecticut.