Security Cage Installers New Jersey. Our Installation department has decades of welded wire storage cage installation experience. Centrally located. Our teams  install Tenant Storage Cages, DEA Cages, Inventory Cages, Safety Fence, Tool Cribs, Data Center Cages, Driver Entrance Cages and Welded Wire Lockers.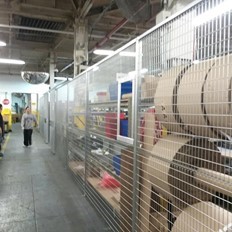 Our crews have installed all major brands, We keep our trucks stocked with each manufactures wire cage parts to avoid down time due to shortages.
Our install crews also have extensive experience installing Pallet Rack, Industrial Shelving, Lockers, Mezzanines, Guard booths and inplant offices. Each install project has a Install Supervisor onsite at all times.  Contact us today Sales@LockersUSA.com
Security Cage Install tips: Many experienced crews, When asked will tell you the hardest part of the install is offloading the truck. If the building where the cage is being installed doesn't have a loading dock a fork lift is required. Lift gate offloads with 8′ long pallets can be treacherous. Inside deliveries need to be thought out. Is their a freight elevator available if the install is not on the ground floor ? Install crews charge more for stair deliveries, Many times the cage is several thousand pounds. With each component having to be brought up or down the stairs can take all day or more. Providing the stairwell is wide enough for the cage to pass. Have the cage install area and staging area totally clear to avoid downtime prior to arrival day. Most carriers will not take the pallets back with them, Some will not even arrive without a pallet jack or lift gate. Be sure to request them is needed. Call us for your install needs P(917) 701-5795.
Security Cage Installers New Jersey, Tenant Storage Cage Installers New Jersey, Security Cage Installers Philadelphia, DEA Cage Installers New Jersey, Wire partition installers NJ, Pallet Rack installers NJ,