Storage Cage Installations NJ. Have you ordered a welded wire or woven wire partition storage cage online and need it installed properly?   Factory Authorized Installers of Welded wire storage cages, Tenant Storage Cages, DEA Cages, Server Cages, Cannabis Cages and Machine Guarding Safety Fence. Experienced install crews with Supervision on every job site. Our six installations crews install storage cages daily in New Jersey, The five Boroughs of New York City and Philadelphia.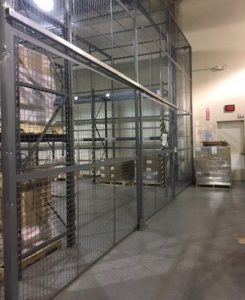 Storage Cage Installations NJ, Will meet the delivery truck of not already delivered, Off load the pallets, Inspect it for damage, Check in all items ordered and bring the materials inside your building for installation.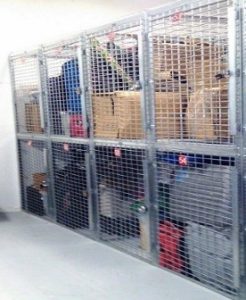 Our install teams work closely with manufactures, distributors, Architects, General Contractors and Customers.  We will never sell to your customer, But we will help you get the next order with our professional installations. If your a storage cage manufacture or distributor not located in the NJ – NYC – Philadelphia metro area and need field measurements confirmed prior to delivery, Contact us for assistance.  Email us for immediate assistance Sales@LockersUSA.com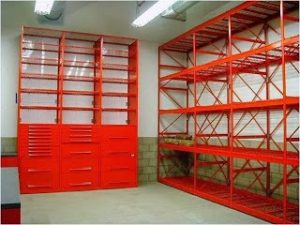 Our install techs also install shelving, Employee & School Lockers, Pallet Rack and Workbenches. To help prevent install delays our install crews trucks maintain a good inventory of related parts in case something is shorted on the delivery in hopes of preventing the install from being delayed.
Onsite knowledge of urban cities in NJ, NYC & Philadelphia is beneficial when accepting deliveries, Many urban buildings do not have loading docks. Knowing this in advance is key to install crews being manned properly to either take the pallets of with a lift gate or providing enough techs to hand off load and provide inside delivery of each item on the delivery. Additionally knowing if the building has an elevator for freight deliveries or a elevator large enough that is padded to prevent damage. If the building does not have an elevator that can be used. Inside deliveries via stairs can be included in the cost. Contact us today for immediate assistance. Our installation division is open six days a week. 6AM – 4PM. Sales@LockersUSA.com
Storage Cage Installations provided in New Jersey, New York City, Queens NY, Brooklyn, Bronx, Staten Island, Philadelphia.