Server Cage NYC. Server and Colocation cages stocked locally. Complimentary Layouts, Professional server cage installations, Free delivery.  Proudly serving the NY Metro area since 1911. Server cage doors stocked in single hinged, double hinged, single slide and double slide. Lock options include programmable locks in push button, card swipe, key fob for up top 200 users.
Interior push bars can be preinstalled for hinged doors, Auto door closers for hinged and slide doors can also be included. Other options include electric strikes, Mag locks and Cylinder locks or we can prep the doors to your system.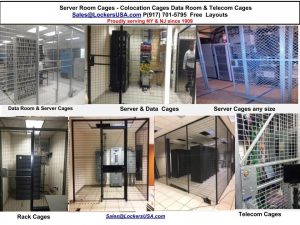 Our Server cages are made with 8ga thick welded wire in Powder coat medium gloss black. Cages can be installed to standard height or to the ceiling. Server cages can be built to any size needed with our in stock modular panels and doors. Our Universal posts are 2″ x 2″ square that allow wiring to be run through them from the lock when needed. Each post has a welded 2″ x 6″ foot plate for secure anchoring.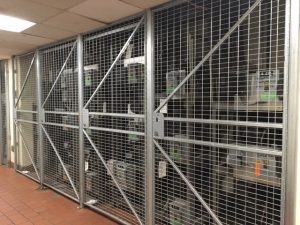 Telecom Cages, Shown above are also stock in our 109,000 square foot NYC distribution center in Galvanized, Medium Gloss black and grey.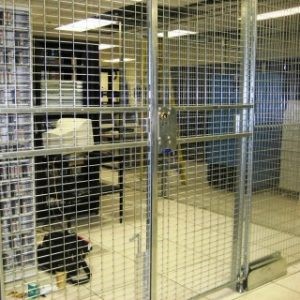 Data Server Cages can be installed by our Techs during normal work hours, Eves or Weekends. LockersUSA provides the industries only 5 year warranty on our cages and labor, Always at the lowest overall cost. Contact us today for immediate assistance. Email Sales@LockersUSA.com or Phone (917) 701-5795.
Server Cage NYC, Data Server Cages NYC, Colocation Cages NYC, Telecom Cage NYC, Server Cage Queens NY, Server Cage Brooklyn,