Security Cages Connecticut. Established 1909. Welded Wire Security Cages delivered free. Complementary Layouts, Professionally installed. Manufactures and master distributors of Welded wire security cages, Tenant Storage Cages, Server Room Cages, DEA Pharmaceutical Cages, Machine Guarding safety fence.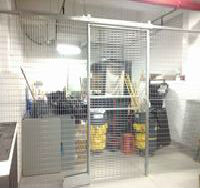 Complimentary Layouts provided six days a week from our 109,000sf facility. Manufactured in 4ga, 6ga, 8ga and 10ga welded wire and woven wire partitions. Doors stocked from 3′ wide to 12′ wide in single hinged, single slide, double hinged and double bi-parting hinged. Lock options include cylinder locks, welded hasps for padlocks, Programmable locks in push button, card swipe, key fob, Electric strikes and mag locks. Interior push bars for hinged doors, self closing doors can also be added. If you have an existing lock system we can prep the doors as needed. Security Cages Connecticut stock colors include Rust resistant galvanized, Powder coat grey, black, blue and safety yellow. Other colors on request. Cage heights to 48′ high easily achieved with our prefab modular cage panels. Security cages can be provided with ceilings in the same material and color or to the ceiling. 99% of all cages are 8′ high industry wide. Cost can be reduced by including the rooms existing back and or side walls to decrease the number of cage sides needed. If the walkway in front of the cage is narrow or has frequent foot traffic, Consider slide doors rather than having hinged doors swing in. a lot of cage space is lost with hinged doors that swing in.

Our Team provides Complimentary Layouts six days a week. Feel free to use the form in the link above or email us at Sales@LockersUSA.com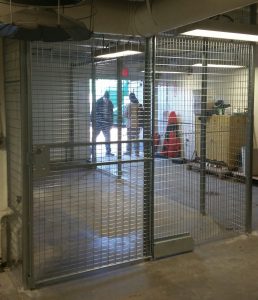 Security Cages in Connecticut can generate good revenue. If your space has under utilized space, Consider adding security cages for vendors and contractors to store their supplies and equipment. Storage Cages in Connecticut with an average size of 8′ wide x 10′ d x 8′ high can generate $450.00 per month in revenue. Buildings with 10 cages can generate $64,800.00 per year in revenue. The ROI averages 7-8 months on average.  Contact us today for immediate assistance. P(888) 963-5355 or Sales@LockersUSA.com
Security Cages Connecticut, Tenant Storage Cages Connecticut, DEA Cages Connecticut, Wire Partitions Connecticut, Welded wire security cages Connecticut, Machine Guarding Safety Fence Connecticut. Security Cages delivered free to Bridgeport, New Haven, Stamford, Hartford, Waterbury, Norwalk, Danbury, New Britain, West Hartford, All of Connecticut.