Wire Storage Cages Wall Twp – Free delivery. Proudly serving NJ since 1909. Free onsite code compliant layouts and quote.  Professional installations. Stocked locally, Open six days a week 7AM to 5PM. Phone (917) 701-5795.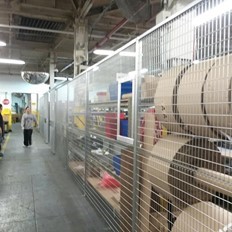 Ideal to secure inventory, Machine Guarding Safety Fence, Tenant Storage Cages, Server Cages, DEA Cages and Warehouse Entrance Doors. Proudly serving Wall Twp since 1909.  Cage doors available from 3′ wide to 12′ wide in single hinged doors, double hinged doors, single slide doors and bi-parting double slide doors from 7′ high and up. Lock options include cylinder locks, welded hasp for padlocks, programmable locks in push button, card swipe, key fob, Electric strike and mag locks. Our team provides Complimentary Storage Cage Layouts daily, Please use the quick form in the link above for immediate assistance or call us. Phone (917) 701-5795.
Manufactured with either framed welded wire, 8ga thick or 10ga thick welded wire in powder coat gray, black or safety yellow.

Our New Jersey distribution center also stocks Machine Guarding Safety Fence used for enclosing moving machinery, electric equipment, motors, etc.  Our team provides code compliant machine guarding safety fence layouts daily. Email us for immediate assistance Sales@LockersUSA.com
Our Tenant Storage Cages  in New Jersey provide the highest security at the lowest overall cost with free delivery. Manufactured with 4ga thick welded wire in rust resistant galvanized, gray or black. Each door has the industries only full height anti-theft lock bar and welded hasp for residents padlocks. Tenant storage cage doors available either 3′ wide or 4′ wide. Standard height is 90″, 7′ is also available. depths of cages can be from 3′ deep to 8′ deep. Stocked in single tier – full height and double tier – stacked doors. Both are widely used in the Metro area.
Tenant Storage Cages in New Jersey generate good revenue. Today most developers, landlords, Condo board and apartment buildings charge a monthly rental fee for each storage cage. Rental rates range from $65.00 to $150.00 per month depending on the size. a basement with 40 cages renting out for $65.00 per month will generate $31,200.00 per year. Standard size cages will pay for themselves in one year or less. Contact us today for a Complimentary Layout and quote. Sales@LockersUSA.com
Wire Storage Cages Wall Twp NJ, Storage Cages Wall Twp NJ, Tenant Storage Cages NJ, Machine Guard Safety Fence Wall Twp NJ, Wire Storage Cages delivered daily to Wall Twp, Manasquan, Toms River, Lakewood NJ, Freehold, Jackson NJ,