Wire Partition Security Cages NYC. Complimentary layouts, Stocked in Manhattan, Fast Quotes, Professional Installations. Proudly Serving the NYC Metro area since 1909. Wire mesh security cages widely used to secure inventory, Prevent unauthorized access, Enclose Server Cages, Tenant Storage, Machine Guarding Safety Fence, Robotic Guarding cage and Tool and Equipment cages,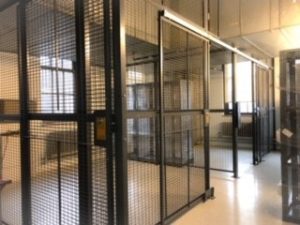 Manufactured with framed 6, 8 or 10ga welded wire mesh in durable, rust resistant galvanized and 5 powder coat colors. Doors stocked from single hinged,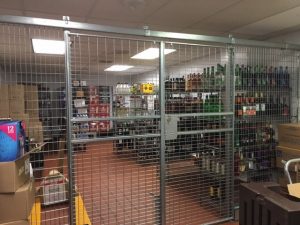 Single slide, Double Hinged, Bi Parting double Slides from 6′ high to 8'h and higher when needed. Lock options include welded hasps for padlocks, cylinder locks, Push button, Card swipe or with interchangeable cores to match your system.  LockersUSA.com techs provide complimentary layouts six day a week. Either online or on site. Feel free to use the form in the link above.  Our techs make it easy, We can be reached on the phone from 6AM to 8PM Monday through Saturday or via email Sales@LockersUSA.com
Wire Partition Security Cages NYC provides cost saving tips. If we can attach the new cage to back and or the rooms existing walls we can reduce the amount of Security cage needed. Instead of buying a 4 sided cage, Incorporating the rooms back wall will reduce the cage from a four sided cage to a 3 sided cage.
Wire Partition Security Cages NYC stocks cage heights from 6'h, 7'h 90″ h up to 28′ high easily with our prefab modular welded wire stacking panel system.  LockersUSA.com's Server Cages are stocked in NYC. Server cages can range from just a welded wire door at the entrance of a room with your server cage or enclosing a corner of the room with a 2 sided cage to four sided server – data room cages, any size from floor to ceiling or above the drop ceiling and below the access floor. Contact us today for immediate assistance. Sales@LockersUSA.com
Wire  Mesh Security Cages NYC, Wire Partition Security Cages NYC, Woven wire mesh partitions NYC, Tenant Storage Cages NYC, Robotic Caging NYC, Loss prevention cages NYC, Inventory cages NYC, Welded wire lockers NYC, Wire mesh security cages delivered daily to New York City, NYC, Brooklyn, Long Island City, 11101, Bronx, Queens NY, Staten Island, New York.