Wall Mount Bike Racks Philadelphia. Chances are a neighboring building has our #1888 wall mount bike racks in use. Space savers, Built to last, With the industries only 5 year warranty.  Locking. Ideal for Philadelphia's residential buildings, Offices and Garages. Our Philadelphia Bike Room Techs provide complimentary layouts either online or onsite. Please use the quick form in the highlighted link or email us for immediate assistance. Sales@LockersUSA.com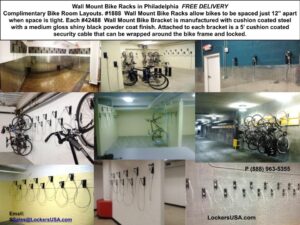 How to create a space saving, Easy to use Bike Room in Philadelphia. First and probably the most important is ask to see the bike brackets. Quality varies in the bike rack industry. Our bike tech will provide a bike bracket for inspection during the layout. We will even install it, So that it can be tested and approved. #1888 bike brackets are stocked locally and have the industries only 5 year warranty at the lowest overall cost.
#1888 Wall Mount Bike Brackets have been designed to allow bikes to be stored on 12″ centers when space is tight. Bikes can be locked onto our bike brackets. We attach a five foot long cushion coated security cable to each bracket. The cable can be wrapped around the bike frame and both rims. The secured with the bike owners lock.
Wall Mount Bike Racks in Philadelphia generate good revenue. in 2022 most residential buildings and garages charge a monthly rental fee for each bike space. Rental fees range from $15.00 to $25.00 per month. If  a building has 70 bike spaces to rent out at $19.00 per month each. The bike room will generate $15,950.00 per year in revenue with an ROI under one year.
Our Philadelphia distribution center also has Tenant Storage Cages in stock in 48 standard sizes. Built to last with the industries only 5 year warranty and free delivery.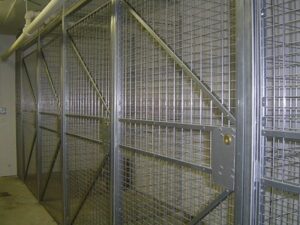 Our Philadelphia techs provide complimentary tenant storage cage layouts in Philadelphia daily either online or onsite. Please use the quick form in the highlighted link or email is for immediate assistance. Sales@LockersUSA.com
Wall Mount Bike Racks Philadelphia PA, Tenant Storage cages Philadelphia, Tenant Storage Lockers Philadelphia. Wall Mount Bike Racks Pennsylvania,