Tenant Storage Lockers NJ, Buy in state and save substantially on high shipping costs. Proudly serving New Jersey since 1909. Tenant Storage Cages stocked in our 120,000sf distribution center. Our inventory includes single tier – full height and double tier – stacked doors in 48 standard sizes.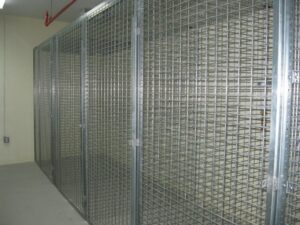 How to buy tenant storage lockers in New Jersey. Seek sources that sell and install tenant storage cages daily in New Jersey. Request a complimentary layout and quote either online or onsite. Experienced Techs provide cost saving suggestions, Code compliant layouts. Tenant storage cages when rented out by a residential building generate excellent revenue. Normally the return on investment (ROI) is one year or less when standard size cages are ordered. 2022 rental rates range from $65.00 to $250.00 per cage, Depending on the size. An experienced tech will let you know what other neighboring buildings rent their cages out for.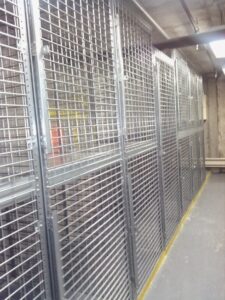 Product selection is key. Welded wire storage cages are manufactured with either 4ga thick welded wire or 10ga thick. 4ga thick is approximately 1/4″ thick. 10ga is slightly thicker than a paper clip. The good news is 4ga thick while providing substantially higher security. Thanks to robotics 4ga is substantially less.  Additionally LockersUSA's storage cages have the industries only full height anti-theft lock bars on each door. Doors for tenant storage cages are either 3′ wide or 4′ wide. Both are hinged. Doors come with a welded hasp for padlocks and number tags.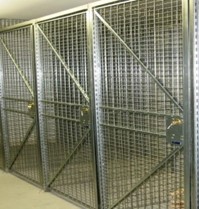 Most buildings have the cages attached directly to the rooms walls and floors. Tops, floors, backs can be included on request. Cages off the wall come standard with backs. Manufactured in rust resistant galvanized, grey or black. Our New Jersey office provides storage cage layouts six days a week. Either online or onsite. Feel free to use our Complimentary Tenant Storage Cage Layout form in this link or contact is for immediate assistance. Phone (917) 701-5795.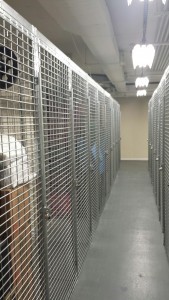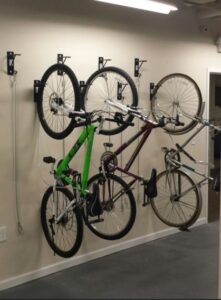 Our New Jersey facility also stocks Wall Mount, Space saving, Locking Bike Racks. Free Bike Room Layouts.