Tenant Storage Cages Stamford. Complimentary Layouts, Stocked Locally, Generates Excellent Revenue, Lowest cost, Lifetime Warranty. Tenant Storage Cages in Stamford for Condo's, Apartment Buildings and Business Storage. Manufactured with 4ga steel in durable galvanized or 5 powder coat colors.  Stocked in 3 standard configurations Single Tier – Walk in, Double Tier Stacked and Custom sizes, Built with in stock modular panels and doors.  LockersUSA Connecticut team provides complimentary layouts, Professional Installations and the only lifetime warranty in the business. The type of tenant storage cage is usually determined by the amount of space in the storage room and the number of units in the building. A mix of types, Single tier, Double tier and Custom units can be included in the layout based on your buildings needs.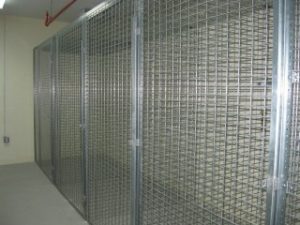 Each Tenant Storage Cage comes standard with Full height lock bars, Welded hasps for padlocks and a hinged door 3′ wide or 4′ wide.  Tops, Bottom shelves and backs can be added to each unit. Most buildings attach the cages directly to the buildings walls and floors. Center aisle cages do need backs, In the same material.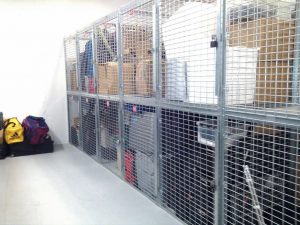 Tenant Storage Cages Generate Excellent Revenue. Today most builders charge a monthly rental fee for on site tenant storage. In the Stamford area The monthly rental fee for tenant storage ranges from $50.00 to @50.00 per month depending on the size. A building with 50 tenant storage cages renting out for $100.00 per month average will generate $60,000. 00 per year in revenue. The tenant storage cages normally pay for them selves in 7-8 months on average.

LockersUSA's Tenant Storage cages are manufactured with 4ga welded wire, Which is double the welded wire thickness of other brands, Providing increased security for less money than 10ga.
Contact us today for immediate assistance. Our Connecticut team is available to provide Complimentary code compliant layouts, Quotations and Product selection assistance. Sales@LockersUSA.com or P(888) 963-5355.
Tenant Storage Cages Stamford, Tenant Storage Lockers Stamford, Tenant Storage Stamford CT, Tenant Storage Cages Connecticut, Basement storage cages Stamford, Tenant Storage Cages delivered daily to Stamford, Norwalk, Bridgeport, Danbury, Fairfield, Stratford, Greenwich, Shelton Trumbull, all of Connecticut.