Tenant Storage Cages NYC 10003. Proudly serving Manhattan for 110 years. Complementary Layouts, Excellent Revenue generator. Stocked locally, Free delivery. Manufactured with 4ga welded wire in Rust Resistant Galvanized, Medium Gloss Black and gray. Stocked in industry standard sizes in Single Tier (full height doors) and Double Tier (Stacked doors) Sizes range from 3′ wide to 8′ wide. Heights from 7′ high, 90″ high and 8′ high. Each door has a full height anti-theft lock bar and welded hasp for padlocks. Our 109,000sf facility provides Complimentary Layouts six days a week. Feel free to use the form in the link above or email us for immediate assistance Sales@LockersUSA.com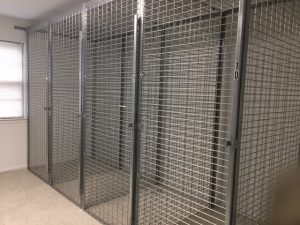 Most NYC Residential buildings have the storage cages installed directly to the rooms existing walls and floors. Tops, backs, shelves floors can also be included. Tenant Storage cages are made in Starter units and add on units. Starter units have 2 sides and one door. Add on units have 1 door and one side. Each row begins with a starter unit. The rest of the row is filled with add on units.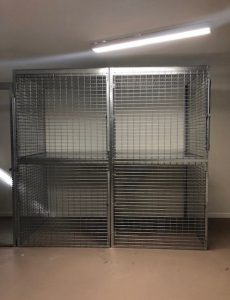 Our 109,000SF NYC  service center also stocks Space Saving, Easy to use wall mount bike brackets. #42488 has been designed to allow bikes to be spaced just 12″ apart when space is tight. Attached to each of our brackets is a five foot long, Cushion coated security cable that can be wrapped around the bike frame and both rims then secured with the bike owners lock. #42488 will increase the bike room capacity by 50% over traditional floor bike racks. Our team also provides Complimentary Bike Room Layouts. Contact us today for immediate assistance. Sales@LockersUSA.com
Tenant Storage Cages NYC 10003, Tenant Storage Lockers New York City 10003, Tenant Storage Cages NYC, Wall Mount Bike brackets NYC 10003.