Tenant Storage Cages Long Island City Queens. Borden Ave Warehouse.  Proudly serving NYC since 1909. Complimentary Layouts, Revenue Generator, Lowest overall cost, Lifetime Warranty. Manufactured with 4ga welded wire in rust resistant galvanized or powder coat medium gloss black or gray. Each Tenant Storage Cage has full height anti-theft lock bars, Welded hasps for padlocks or cylinder locks. Tenant Storage Cages come in three standard types. Single tier – Full height, Double Tier Stacked and PH Units larger tenant storage cages for Penthouse apartments. All three types are stocked in Long Island City.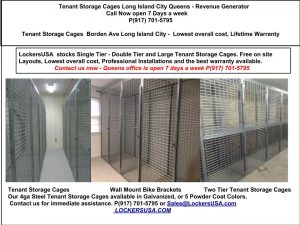 Tenant Storage Cages normally are attached directly to the rooms existing back walls and floors. Tops, Backs, Floors, Shelves can be added. Units off the wall come standard with backs. 4ga framed welded wire is more than double the welded wire thickness of past generations. High volume and robotics has driven
the cost below thinner gauge tenant storage cages, While increasing security. Ask for 4ga welded wire. Additionally we have numerous installations in your area. Feel free to request an onsite visit to inspect the quality and craftsmanship.
Tenant Storage Cages Long Island City Queens generates excellent revenue. Today most developers, landlords, Condo – Co-op boards and apartments charge a monthly rental fee for onsite tenant storage ranging from $75.00 to $350.00 depending on the size. A residential building with 50 tenant storage cages renting our for $85.00 per month will generate $51,000.00 per year in revenue. Average ROI is less that 7-8 months. Combined with LockersUSA lifetime Warranty its a sound investment.  LockersUSA provides complimentary layouts six days a week, Either online or onsite. Feel free to use the link above or Sales@LockersUSA.com
Tenant Storage Cages Long Island City Queens, Tenant Storage Lockers Long Island City Queens. Tenant Storage Cages Queens NY, Tenant Storage Lockers Queens NY, Tenant Storage Cages delivered daily in Queens to Long Island City, Astoria, Jackson Heights, Sunnyside, Woodside, East Elmhurst, Flushing, Elmhurst, Corona, Rego Park, Ridgwood, Woodhaven, Ozone Park, Jamaica, All of Queens and Brooklyn.