Tenant Storage Cages – Lockers NYC. Proudly serving the five boroughs since 1909. Generates excellent revenue, Complimentary space saving layouts. Manufactured with 4ga frame welded steel, Our tenant storage lockers are stocked in full height – single tier and two tier stacked. Both widely used in NYC. Each door has a full height anti theft lock bar, Welded hasp for locks and number tags. Most developers attach the lockers directly to the rooms existing walls and floors. Backs, Tops, Shelves can be included as an option.  Tenant Storage Cages are stocked in rust resistant galvanized, Black and Gray.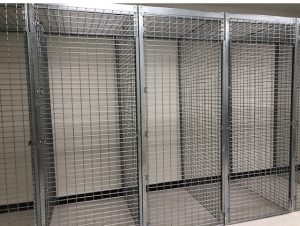 Tenant Storage Cages generate good revenue. Today most developers, Landlords, Co-op and condo boards charge a monthly rental fee to use a storage cages ranging from $85.00 to $250.00 per month depending on the size. A building with 40 lockers renting out on average for $95.00 per month will generate $45,600.00 per year in revenue. The lockers typically pay for themselves in 7-8 months.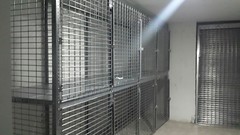 Our team provides Complimentary Layouts. Feel free to use the form in the link or email us for immediate assistance. Our NYC facility also stocks wall mount bike brackets designed to create space saving, Easy to use bike storage.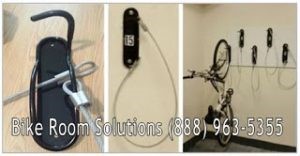 Each bracket also has a five foot long cushion coated security cable that can be wrapped around the bike frame, Both tire rims and secured with the bike owners locks. Typically #42488 Wall mount bike brackets will increase existing bike room capacity by 50%. When the bike room is small, #42488 can be spaced on 12″ centers, We alternate the heights 65″ and 74″ so the handlebars stay clear of other bikes. Call today for a free layout. Phone (917) 701-5795.
Tenant Storage Cages NYC, Tenant Storage Lockers NYC, Wall Mount Bike Racks NYC, Lafayette St NYC 10012.