Tenant Storage Cages Edison. Proudly serving New Jersey since 1909. LockersUSA of New Jersey manufactures and distributes Tenant Storage Cages and Wall Mount Bike Racks. Storage Cages stocked in single tier – full height cages and double tier – stacked doors in 48 standard sizes. Built to last, Manufactured with 4ga thick welded wire in rust resistant galvanized, Grey or Black. Hinged doors stocked either 36″ wide and 48″ wide. 90″ high is the industry standard height, However we also provide 6′ high and 7′ high. All doors are designed to swing out and lock left or right. Each door has the industries on full height anti-theft lock bar and welded hasp for padlocks. Cylinder locks can be added with two keys on request.
Our Middlesex County Office near Edison provides Complimentary Layouts, Either online or onsite,  Six days a week. Please fill out the form in the attached link or contact us for immediate assistance P(917) 701-5795. Tenant Storage Cages can be provided with welded wire tops in the same color on request. Normally most buildings have the storage cages attached directly to the room walls and floors. Backs, Tops, Floors and shelves can be added on request. Tenant Storage Cages that are not installed against a wall come with welded wire backs.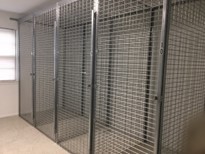 Tenant Storage Cages in Edison Generate excellent revenue.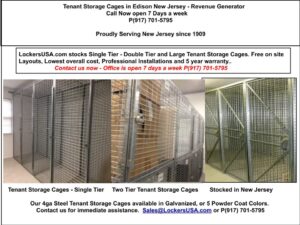 Today most residential apartment and condo buildings rent out tenant storage cages to their residents. Rental rates in Edison New Jersey range from $75.00 per month to $250.00 per month. A residential building renting out 40 cages at $125.00 per month will generate $60,000.00 per year in revenue. The storage cages typically pay for themselves in just 12 months.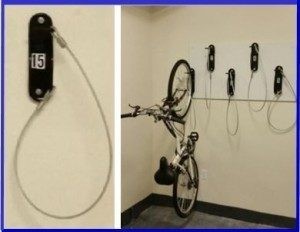 We also manufacture Wall Mount Bike Racks #1888 designed to allow bikes to be spaced every 12″ when space is tight. Built to last with the industries only 5 year warranty. Bikes can be locked onto the #1888 Wall Mount Bike Brackets. Attached to each bracket is a five foot long cushion coated security cable that cab be wrapped around the bike frame and both rims then secured with the bike owners lock. Our New Jersey office located near Edison also provides complimentary bike room layouts. Contact us today for immediate assistance. Sales@LockersUSA.com
Tenant Storage Cages delivered daily to Edison, Woodbridge, South Amboy, Perth Amboy, Sayreville, Old Bridge, Parlin, Matawan, Piscataway, South Plainfield, Rahway, Iselin NJ,