Storage Cages Manhattan for residential tenant storage and inventory. Complimentary layouts, Lowest overall cost, Lifetime Warranty.  Widely used to secure inventory and to prevent unauthorized access. Built to last with either 4ga, 8ga or 10ga welded or woven wire partitions. 4ga is the thickest welded wire stocked and is more that twice as thick as 10ga. Due to increased popularity 4ga now cost the same as thinner gauges.  Doors stocked in hinged or sliding.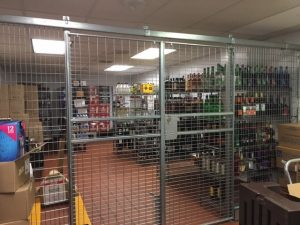 from 3′ wide to 12′ wide. Heights from  5′ to 8′ stocked in New York City.  Cage heights can be up to 24′ high with or without ceilings in the same material. Locks range from welded hasps for padlocks, cylinder locks, push button, key fob, card wipe. Standard cylinder locks with keys can be delivered installed keyed different or key different with master keys. Locks can also be all keyed the same.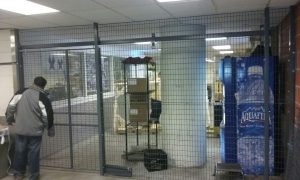 If your have an existing lock system, We can provide IC interchangeable cores to match your system. Posts supports come standard 2″ x 2″ x the height needed with 2″ x 6″ welded foot plates. LockersUSA.com based in New York City provides complimentary layouts six days a week. Our office is open 6AM to 5PM. Layouts can be done quickly by emailing a sketch of the cage needed, Or by using our simplified on line Complimentary Layout Form. Our Techs also provide complimentary onsite layouts in the Five Boroughs. Storage Cages Manhattan can deliver and install the same week. Email us for immediate assistance.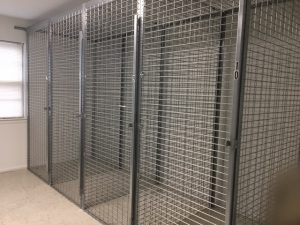 Tenant Storage Cages. manufactured with 4ga welded wire in rust resistant galvanized and power coat medium gloss black or gray. Tenant Storage cages are stocked in single tier – full height doors or double tier – stacked. Both widely used in New York. Our code compliant complimentary layouts can help provide your space with the layout best suited to your specific needs. P(917) 701-5795. or email us today at Sales@LockersUSA.com
Storage Cages Manhattan, Storage Cages NYC, Tenant Storage Cages NYC, Security Cages NYC, Liquor cages NYC, Storage Cages delivered daily to NYC, Queens NY, Brooklyn, Bronx, Staten Island.