Storage Cages East Rutherford. Welded wire security cages stocked locally. Ideal for securing inventory. Designed for today's Loss Prevention needs. Proudly serving NYC & NJ since 2909. Our Team provides Complimentary Layouts, Fast delivery and professional installations. Widely used in the retail & warehouses.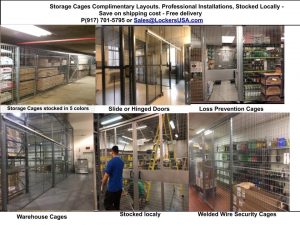 Storage Cages East Rutherford:  Manufactured with heavy duty welded wire in Galvanized Steel, Grey, Medium Gloss Black and five other colors. Doors stocked locally from 3′ wide to 12′ wide in single hinged, single slide, Double hinged and Double Slide. Lock options include cylinder locks, Welded hasps for padlocks, programmable locks in Card Swipe, Push button and Key fobs. Or we can prep our doors for your lock systems. Additionally Electric Strike, Mag locks available. Interior push bars can be added to hinged doors and auto door closers can be included.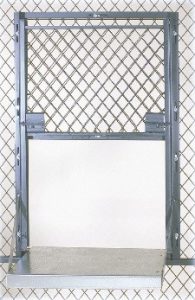 Locking Service Windows can be installed in the cage to accept or hand our boxes without opening the doors. We can install them in new or existing storage cages. The service window locks closed when not in use and has a exterior counter.
Storage Cages East Rutherford stocks welded wire cage heights up to 48′ high. Most storage cages are 8′ high with or without a ceiling in the same material and color. Cost can be reduced by using the rooms back and or side walls, Reducing the amount of sides needed for your cages. Our Security Cage Techs can assist with a Complimentary Layout.  In addition to Security Cages in East Rutherford our inventory also includes Pallet Racking and Shelving.
Our 109,000SF facility is open Monday through Friday 7AM to 5PM contact us today for immediate assistance. P(917) 701-5795.
Storage Cages East Rutherford, Security Cages East Rutherford NJ 07073, Storage Cages NJ, Security Cages NJ, Loss prevention cabinets NJ, Storage Cages NYC, Security Cages NYC.