Server Cages Bridgewater NJ.  Enclose server racks.  Server – Data Room Cages instock. Proudly serving New Jersey since 1909.  Prevent unauthorized access. Complimentary Code Compliant Layouts, Fast Quotes, FREE DELIVERY, Professional installation. manufactured with 8ga welded wire steel. Doors stocked locally from 3′ wide 10′ wide in single hinged, single slide, double hinged or bi parting double slide. Stocked in durable, rust resistant galvanized, Medium gloss black and gray. Other powder coat colors can be delivered in 4-5 weeks. Lock options include welded hasps for padlocks, Cylinder locks, Push button, Card Swipe, Key fob. When needed locks can be programmable up to 300 users. Doors can also be equipped with interior push bars for hinged doors, Electric Strikes, Magnetic Locks and Automatic Door Closers for slide doors.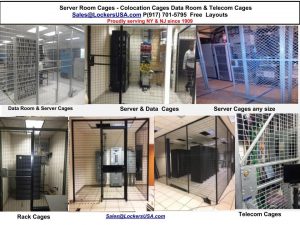 Server Cages Toms River, Data Room Cages and Colocation cages can be configured one sided, two sided, 3 or 4 sided. Cost can be saved when using the rooms existing walls when possible. Server Cages Toms River can be built from 7′ high to 24′ high and below the computer access floor when needed. Ceilings can also be installed in the same cage material and powder coat color. Phone (917) 701-5795.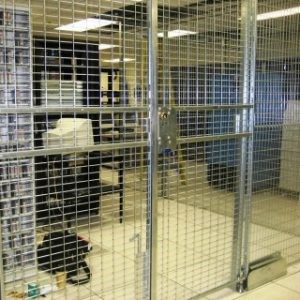 LockersUSA.com Techs provide Complimentary Layouts for Server Cage, Data Room and Colocation Cage layouts daily. Either on line or onsite.  Also stocked is Security Cage to enclose electrical panels for the network. Doors can be keyed alike to match the server cage.  Also stocked locally is Telecom Cages, Equipment Cages, Tenant Storage Cages, Machine Guarding Cages, DEA Pharmaceutical Cages, Medical Marijuana Cages, Cannabis Cages, Pallet Rack Cages doors and Rack Cage enclosures. Contact us today for immediate assistance. P(917) 701-5795 or Sales@LockersUSA.com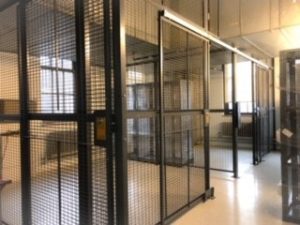 Server Cages Bridgewater NJ, Security Cages Bridgewater NJ, Colocation Cages Branchburg NJ,  Machine Guarding Cages Bridgewater, Data Room Cages Bridgewater New Jersey, Server Cages delivered daily to Bridgewater, Branchburg, Sommerville, Boundbrook, Piscataway, New Brunswick,   New Jersey.