Security Cages Carneys Point. Welded Wire security cages stocked locally. Complimentary Layouts, Professional installations, Lowest overall cost. Manufactured with 8ga and 10 ga welded wire in Powder coat medium gloss black, grey and rust resistant Galvanized. Doors stocked in single hinged, single slide, double hinged and Bi parting – double pair slide from 3′ wide to 12′ wide.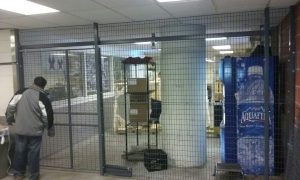 Cage heights from 7′ high to 48′ high. Our modular welded wire stacking panels allow for quick installations and cost saving field modifications around piping, ducting, columns, etc. Door lock options include welded hasps for padlocks, cylinder locks, Programmable locks, Electric Strike, Mag Locks. Interior push bars and Hydraulic door closers can also be included. We can also provide interchangeable cores to match you existing system.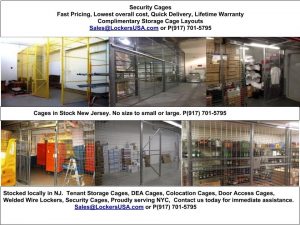 LockersUSA's New Jersey Facility also stocks DEA Pharmaceutical cages, machine Guarding Safety Fence, Tenant Storage Cages, Server Cages, Data Room Cages and Colocation cages. Our Techs provide complimentary layouts six days a week. Feel free to use the link above or Email or call for immediate assistance.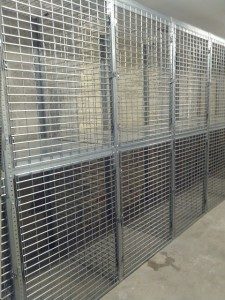 Security Cages Carneys Point inventories modular design allows for quick installation of Tool Cribs, Warehouse Storage Cages, Perimeter Walls, Liquor Cages, Loss Prevention Cages and Drivers entrance cages. Bulk Storage Cages work well for storing specific Items in a controlled smaller cage within the room. Bulk Bulk Storage Cages are manufactured with 4ga welded wire (which is more than double the welded wire thickness of 10ga). Sizes range from 3'w x 3'd x 90″ high to 4′ wide x 5′ deep x 90″ high with full height doors and stacked – two tier doors. Doors come with full height anti theft lock bars and welded hasps for padlocks. Tops, Floors, Shelves can also be added. Bulk storage cages come standard in Starter units (1 door & 2 side) add on units have 1 door and 1 side. Each row begins with a starter unit, The rest of the row is add on units- Attaching the row with common sides. doing so provides significant cost savings and reduces growth in the width.
Contact is today for immediate assistance. Our 109,000SF facility is open Monday – Friday 6AM – 5PM.
Security Cages Carneys Point, Woven Wire Partitions Carneys Point NJ, Storage Cages Carneys Point, Warehouse Cages Carneys Point, Tool Crib Cages Carneys Point, Bulk Storage Lockers Carneys Point NJ, Security Cages delivered daily to Carneys Point, Moorestown, Camden, Cherry Hill, Salem NJ,Logan Twp, Woodstown,  Carneys Point NJ 08023,  New Jersey.