Security Cages Atlantic City. Welded wire mesh storage cages in Atlantic City. Ideal for secure, visual enclosures of inventory and equipment. Widely used by Hotels, Casino's, Restaurants and Business.  Our Atlantic City Techs provide Complimentary Storage Cages layouts six days a week. P(888) 963-5355.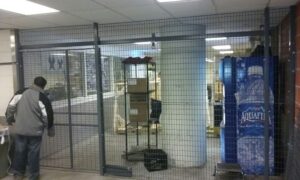 Manufactured with 10ga thick welded wire in rust resistant galvanized, Grey or Black in a powder coat finish. Security Cage doors available in single hinged, double hinged, Single slide and bi-parting slide doors.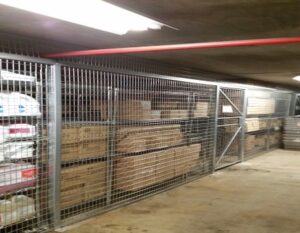 Save cost on security cages by using the rooms back and or side walls as part of the enclosure when possible. Most purchase 8′ high cages, However we can provide any size cage needed with  or without a ceiling.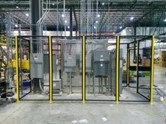 Our 190,000sf facility also stocks Safety Fence to enclose moving machinery, Conveyors, Electrical Equipment and Pump, motors. Keep your employee safe with Machine Guarding Safety Fence. Stocked locally, Free layouts. Email us for immediate assistance Sales@LockersUSA.com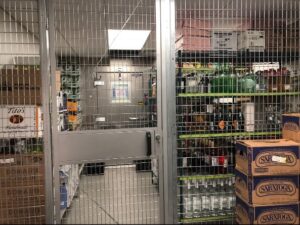 Liquor Cages in Atlantic City are ideal for securing inventory in Restaurants, Hotels and Casino's. Liquor cages can be made to any size needed easily with our standard cage panels and doors. Doors come standard with cylinder locks and two keys. Mag Locks and Programmable locks in push button, card swipe, key fobs can also be added on request Self closing doors help increase security. As a worker is leaving the liquor cages the door engages into the lock.
Contact us today for immediate assistance. Sales@LockersUSA.com
Security Cages Atlantic City, Storage Cages Atlantic City NJ 08401, Wire Mesh Cages Atlantic City, Liquor Cages Atlantic City NJ 08401, Machine Guarding Safety Fence NJ 08401,