Security Cage Newark NJ. Manufacturer and Master Stock distributor of welded wire security cages. Proudly Serving New Jersey Since 1909.  Secure Inventory, Prevent unauthorized access with welded wire security cages. Stocked locally in our 120,000 square foot warehouse. Our team provides Complimentary Security Cage Layouts daily. Either online or onsite.  Fill out the quick form in the link above or contact us for immediate assistance. P(917) 701-5795.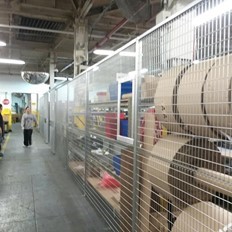 Our prefab modular welded wire cage panels and doors allow our techs to build the cage size needed with high custom costs. Doors stocked in single hinged, Double Hinged, Single slide and bi-parting slide doors. Sizes range from 3′ wide to 12′ wide. Doors can be delivered with cylinder locks, Welded hasps for padlocks, Programmable locks in push button, card swipe, Key fob or we can match your existing lock system with interchangeable cores. Additionally doors can have electric strike locks, Mag locks, Interior push bars on hinged doors or self closing hydraulic door closers.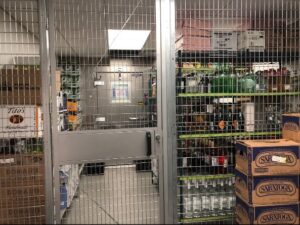 Storage Cages can also be provided with locking service window that allows packages to be passed through the cage without opening doors. The locking window counter kits. Costs can be saved by using the rooms side and or rear walls as part of the enclosure, Reducing the amount of sides needed. Security Cages can also have  ceilings in the same welded wire material on request.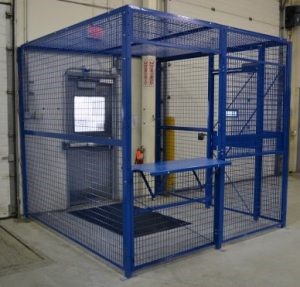 Building security can also be substantially increased with our driver access cages. Driver entrance access cages restricts visitors from entering your facility.
Ideal for Warehouse entrances, Office, Schools, Medical facilities. Anywhere the need to restrict unauthorized access at unattended doors is paramount.  Contact us today for immediate assistance. Sales@LockersUSA.com
Security Cages Newark NJ, Driver entrance cages New Jersey, Building entrance cages NJ, Door entrance cages NJ, Storage Security Cages New Jersey, Increase School Security New Jersey.