Cannabis Cages NJ. DEA Compliant Cannabis Cages for the Recreational, Medical Dispensaries and Pharmaceuticals. Stocked in New Jersey in all sizes. Proudly Serving New Jersey since 1909. Our Team Provide Complimentary Cannabis Cage Layouts either onsite or online six days a week. Please use the quick form in the link above to provide some basic info on the size Cannabis Cage needed or contact is for immediate assistance.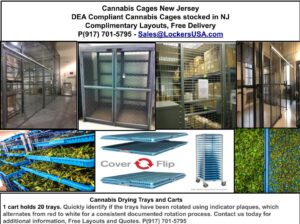 DEA compliant Cannabis Cage Doors stocked in swing and slide. Doors can have Mag Locks or Programmable locks with self closing code compliant doors. Our install Techs pride themselves in providing code compliant installations with guaranteed inspection approvals in NJ, NYC & NYC.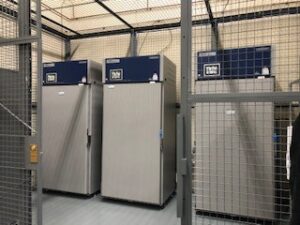 For the Cannabis Cage to be code compliant in New Jersey in must be four sided, With ceiling and self closing doors in either slide or swing. All fasteners and floor anchors are spot welded for security, Our Tech will help you create the size needed while being code compliant at no charge.
Contact us today. Our office and 120,000 square foot facility is open 7AM to 9PM Monday through Saturday. Sales@LockersUSA.com
Also in stock at our New Jersey facility is employee lockers in Metal, Wood and welded wire. Stocked in various styles and sizes in new and used.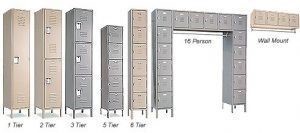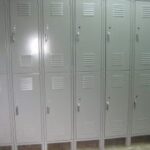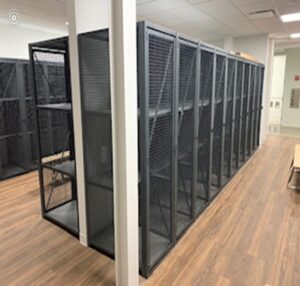 We also stock Bulk Storage Lockers in double tier – stacked doors and single tier – full height. ideal for secure visual storage of inventory.
Manufactured with 1/4″ thick framed welded wire with full height anti-theft lock bars in rust resistant galvanized.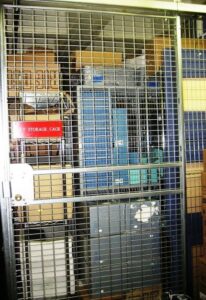 DEA Cannabis Cages delivered free to New Jersey, NYC, Brooklyn, Queens NY, Bronx, Staten Island, Philadelphia, Pennsylvania.