Liquor Cages NYC. Loss prevention cages secure liquor inventory and helps restaurants, bars and hotels increase profits. Leaving expensive bottles of liquor unsecured is asking for losses. LockersUSA stocks and installs Liquor and Security cages for the hospitality industry. Our cages come in various sizes based on the sized need and the space allowed. Typically a security cage with pay for it self within the first month. LockersUSA provides free on site layouts, Professional installations and the lowest overall cost with the best warranty. Contact us today for immediate assistance. Sales@LockersUSA.com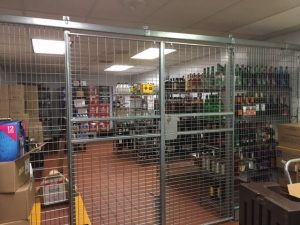 LockersUSA also stocks security cages for dry goods and inventory. Our install teams deliver throughout Manhattan, Queens, Brooklyn, Bronx and Staten Island daily. Our cages are available in ranges from just 3'W or 40'W x any height needed.  Their are a few ways to save money on Liquor cagesif.  you are putting the cage in the back of the room ask for a 3 sided cage and use your back wall as part of the cage. Or even better yet if the cage can be put on the back wall and along a side wall, You then only need a two side cage. We are here to make your purchase cost effective and keep you inventory from leaving the building unless its paid for.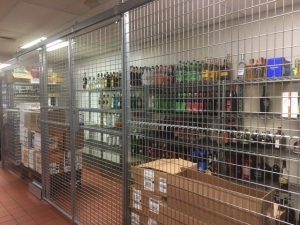 Contact us today for immediate assistance. Our team works 7 days a week. Sales@LockersUSA.com or call us (917)701-5795
Liquor Cages  New York City, Neighborhoods served W 14th St 10014, E 24th St 10010, Jay St 10013, Broadway 10012, W42nd St NYC 10036, W 57th St NYC 10019, 2nd Ave 10075, 8th Ave 10011, UWS 10024, Maiden Lane 10038, Lower East side 10002, Union Square 10003. West 30th 10001,
Liquor Cages NYC, Liquor Cages New York City,  Loss prevention cages NYC, Liquor Cages delivered and installed to NYC,  Brooklyn, Queens, Bronx, Harlem, Upper Manhattan, Staten Island.