Cannabis Cages New Jersey.  LockersUSA of New Jersey Manufactures, Design and Builds Code Compliant Cannabis Cages for the Recreational and Medical Cannabis industry.  Our experienced team provides Complimentary, Code Compliant Layouts and quotes onsite and online.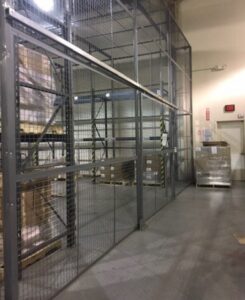 Our Team can also provide space saving interior cannabis storage layouts that can increase the  storage capacity by up to 50% or reduce the cage size needed with a space space and cost saving interior layout. Contact us today for immediate assistance Sales@LockersUSA.com
Our Cannabis Cage Techs training  takes the stress out of Code Compliant Cages. Our layouts and quote provide all that is needed for  for your facility. Our team will suggest the cannabis cage is four sided with a top and self closing doors. Our install team will ensure the cage panels have no sweeps (space) and that all connecting hardware is welded so that bolts and hardware cannot be taken apart.  Doors can hinged or sliding. How product is brought into the cage will determine the door size. if inventory is transported via carts, pallets or containers. Selecting the right size door width and type is key. We suggests minimum door width of 4′ wide. If aisle space is tight, Our Tech will suggest a self closing slide door. Slide doors don't take up aisle space that hinged doors do.
Lock options include cylinder locks, Programmable locks for up to 200 users in key fob, card swipe or push button. Mag Locks, Electric strike locks can also be included on request. Interior push bars can be preinstalled on Hinged doors on request.
Our facility also stocks DEA Compliant Cages for the Pharmaceutical industry. Our team provides either online or onsite Layouts six days a week. Contact us today or immediate assistance. Phone (917) 701-5795 or email us at Sales@LockersUSA.com
Cannabis Cages New Jersey, DEA Cannabis cages NJ, Cannabis Stores NJ, Cannabis Cages Staten Island, DEA Cannabis Cages Keyport NJ, Red Bank NJ, Eatontown NJ, Woodbridge NJ, Readington, Ewing, Hamilton, Flemington, Lamberville, Aberdeen, Matawan, Freehold Boro, Nepune City, Ocean Township NJ,  DEA Cages New Jersey.