Tenant Storage Cages South Plainfield. Stocked locally, Complimentary layouts, Generates Excellent Revenue, Lowest cost, Lifetime warranty. Since 1909 New Jersey's Largest and Oldest  prime source for Tenant Storage Cages. Manufactured with 4ga welded wire which is more than double the welded wire thickness of 10ga provided by other manufacturers, Providing double the security at a lower cost. Each Tenant Storage cage comes with the industries only full height lock bar, Welded hasps for padlocks or cylinder locks. Standard sizes stocked range from 3′ wide to 5′ wide x 3′ wide to 5′ wide. Heights to 90″ is standard. Larger tenant storage cages can easily be assembled, cost effectively with our modular stacking panels.
Built to last with the industries only Lifetime Warranty. Our team provides Complimentary Layouts either online or onsite six days a week. Tenant Storage Cages South Plainfield generates excellent revenue. Today most developers, landlords and condo boards charge a monthly rental fee for on site tenant storage cages ranging from $65.00 to $150 per month depending on the size. A tenant storage room with 60 cages renting out on average for $75.00 per month will generate $54,000.00 per year in maintenance free revenue. The ROI averages just 6-7 months.
Two Tier Tenant Storage Cages, Widely used in the metro area max out the smallest foot print. two tier – stacked stocked
locally in 7 standard sizes. Contact us today for layouts assistance, product selection information.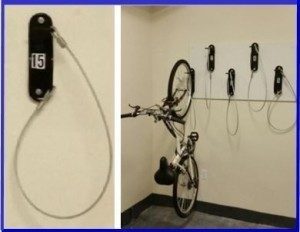 Wall Mount Bike Brackets. LockersUSA also stocks space saving, Easy to use wall mount bike brackets. Designed to allow bikes to be spaced just 12″ apart. #L42488 bike bracket has a shiny black powder coat finish. Attached to each bike bracket s a 5′ long cushion coated security cable that can be wrapped around the bike frame, both rims and secured with the bike owners lock. #L42488 typically increases bike room storage capacity by 50%.  If the bike room walls are sheet rock we recommend adding plywood support over the sheet rock. 22″ high for secure anchoring. Our team can install for you or provide your staff install instructions on site and on line.
LockersUSA.com NJ office is open Monday through Friday 6AM – 5PM, Saturdays 6AM – 2PM. Contact us now for immediate assistance. Sales@LockersUSA.com
Tenant Storage Cages South Plainfield, Tenant Storage Lockers South Plainfield, Tenant Storage Cages Piscataway, Tenant Storage Cages New Jersey. Tenant Storage Cages delivered daily to South Plainfield, Piscataway, Somerset, Somerville, Edison, North Brunswick, Woodbridge Twp, Sayreville, East Bruswick, Old Bridge, all of New Jersey.