Tenant Storage Cages Jackson. Manufacturer and Master distributors of tenant storage cages and welded wire security cages. Proudly serving New Jersey since 1909. Free Layouts, Lowest cost, 5 year warranty, Generates Good Revenue.
Stocked Locally. Tenant Storage cages in Jackson Twp New Jersey provide secure, Visual storage in residential and commercial buildings for residents and tenants. Manufactured with 4ga Galvanized Steel with all welded grid openings. We also stock tenant storage cages locally in 5 standard powder coat colors in woven wire and framed welded wire. Basically two types of tenant storage cages are used throughout the industry, Single Tier – Full size and Double Tier – Stacked. Doors can be delivered with welded hasps for padlocks or steel encased cylinder locks.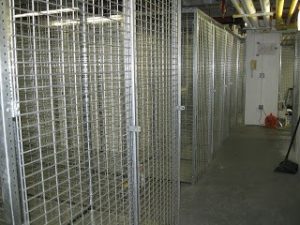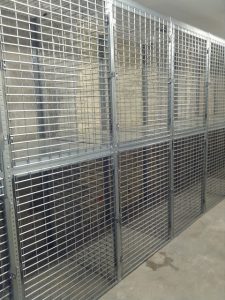 Tenant Storage Cages Generate Revenue: Most developers, Landlords and property managers rent out tenant storage monthly to residents $80.00 to $250.00 per month. A building with 30 tenant storage cages rented out at just $100.00 per month will generate $36,000.00 per year in maintenance free revenue. Impressively the tenant storage lockers typically pay for themselves in less than 8 months.
98 Percent of all the tenant storage cages range in sizes from 3'w x 3'd to 4′ wide x 5'd x 90″ high. Larger sized units can be made cost effectively with our modular design. LockersUSA local office in Central Jersey provides complimentary layouts six days a week. Our online Complimentary Layout Form can be filled our and returned also for immediate response and pricing. or feel free to call Phone (917) 701-5795. Our office is open Monday – Friday 7AM to 5PM and Saturdays 7AM – 1PM.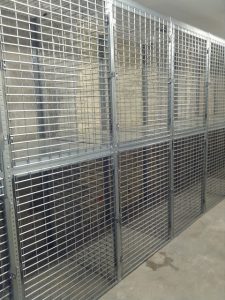 Our Central Jersey, Security Cages, Machine Guarding Cages, DEA Pharmaceutical Cages, Data Room and Server Cage. Contact us today for immediate assistance. Sales@LockersUSA.com or give us a call now P(917) 701-5795.
Tenant Storage Cages Jackson, Tenant Storage Cages Jackson NJ, Tenant Storage Lockers Jackson, Tenant Storage cages delivered daily to Jackson, Wrightstown, Lakewood, Toms River, Manchester, Lakehurst, New Hanover Twp, Brick Twp, Fort Dix, Freehold, Hamilton Twp, Pemberton, Brown Mills.