Metal Lockers Daytona Beach. Ideal for Employees, Hotel, Medical, Schools, Gyms. Stocked in Daytona. Arrives assembled ready to use. Lowest cost. Lifetime Warranty. LockersUSA of Daytona Beach facility stocks Metal Lockers in standard sizes in 5 free colors. Built to last with a Lifetime Warranty at the lowest overall cost.  LockersUSA Daytona Beach provides complimentary  code compliant layouts. Metal Lockers Daytona Beach stocks Six popular types in our local warehouse as shown below.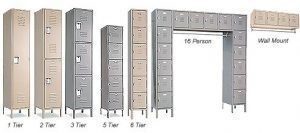 Single Tier Lockers are widely used at Hotels, Gyms, School, Medical and Law Enforcement. Stocked in Daytona in six standard sizes and colors. Our team can deliver the lockers fully assembled.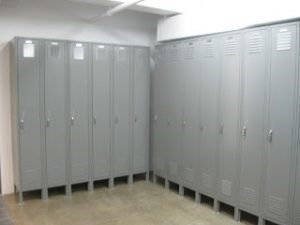 Metal Lockers Daytona Beach come with full continuous hinges for long term use. 1 Tier lockers come with recessed pocket handles, hat shelf, coat hooks, number plates and coat rods. Standard sizes in stock 12″ wide and 15″ wide x 12″, 15″ 18″ and 24″ deep. Height of each locker is 78″ which includes 6″ open legs. Legs can come with closed in front bases and side bases. Tops of our lockers are flat and  sloping hoods can be ordered also.  LockersUSA Daytona Beach stocks Metal lockers AKA steel lockers, Wood Lockers, Stainless Steel Lockers, Expanded Metal Lockers, ADA Lockers and locks.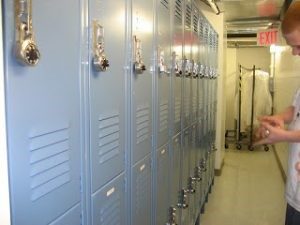 Locker Locks can be padlock or combination padlock. The most popular lock is builtin combination locks with key control. Built in Combination locks come with master keys and Control Charts detailing the locker number, persons name, current combination number and 4 additional combination numbers for future use. After changing the combination number 4 times as locker users leave, The combination number can be set to the original number. Changing locker combination number is easy to do and instructions only given to management along with the master keys. Out Locker Tech will also show you how to change the combination numbers when needed.
LockersUSA's Daytona facility also stocks Locker Room Benches from 3′ wide to 12′ wide along with ADA compliant Benches. Contact us today for immediate assistance. Sales@LockersUSA.com or P(888) 963-5355. Our Daytona facility is open Monday thorugh Friday 7AM – 5PM and Saturdays from 7AM until 2PM.
Metal Lockers Daytona Beach, Steel Lockers Daytona Beach, Employee Lockers Daytona Beach, School Lockers Daytona Beach, Gym Lockers Daytona Beach. Metal Lockers delivered daily to Daytona Beach, Orlando, Fort Lauderdale, Port Orange, Tampa, Jacksonville, Miami Beach, Pompano Beach, St Augustine, all of Florida.