Stainless Steel Lockers NYC. Corrosion Resistant 304SS Stainless steel lockers stocked in NYC. Complimentary Layouts, Professional Installations, Lowest overall Cost. Save on expensive shipping cost. Buy Local Stocked in NYC. Stainless Steel Lockers stocked in Single Tier and Double Tier (stacked) and six tier box lockers. Ideal for areas subject to rust or sanitation issues. Widely used in Pool and out door areas, Food Industry and Pharmaceutical companies. P(917) 701-5795.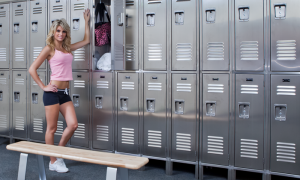 Single Tier and Double Tier lockers are stocked with recessed handles with a welded hasp for padlocks. Builtin combination locks can be installed in the lockers with key control. Builtin Locks have 5 combinations numbers that can be changed when lockers are reassigned. If your facility already as combination locks we can provide additional locks keyed to your system.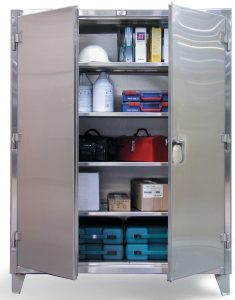 LockersUSA also provides Stainless Steel Cabinets in various sizes and types based on your specific requirements. LockersUSA also stocks standard metal lockers, Shelving, Workbenches, Pallet Rack, Security Cages, Modular Cabinets, Standard Steel Cabinets, Plastic Bins, Mezzanines, Prefab Offices, Guardrail and Bollards. Contact us now for immediate assistance. Our Team Provides complimentary layout six days a week. Our Office is open Monday through Friday 7AM to 5PM and Saturdays 7AM – 1PM.  Sales@LockersUSA.com or P(917) 701-5795.
Stainless Steel Lockers NYC, SS Lockers NYC, Corrosion Resistant Lockers NYC, Stainless Steel Cabinets NYC, Metal Lockers NYC, Stainless Steel Lockers NJ, Stainless Steel Lockers New Jersey. Stainless Steel Lockers delivered daily to NYC, Brooklyn, Queens NY, Bronx, Yonkers, Newark, Jersey City, Elizabeth, Long Island City, Astoria, Maspeth, Park Slope, Williamsburg, Sommerville, Piscataway, Somerset, Morristown, Englewood, Edison, Fort Lee, Paramus, Old Bridge, New Brunswick, Toms River, Middletown, Holmdel, Long Branch, East Brunswick, Port Washington, Eatontown, Freehold, Jackson, Marlboro, Woodbridge Twp,