Storage  Cages Daytona Beach. Secure inventory and Equipment with welded wire storage cages. Manufactured with 8GA steel with all welded grid openings. LockersUSA stocks security cages, Tenant Storage cages, DEA Pharmaceutical cages, Machine Guarding Cages, Robotic Guard Cages and Pallet Rack cage enclosures locally. Our modular designed welded cage panels allow any size cage to be standard. Doors are stocked in hinged and sliding with an array of locking options.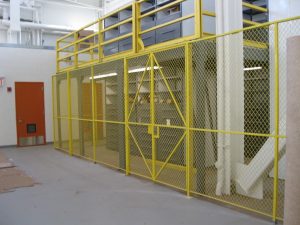 Our office provides complimentary layouts, professional installations and the best warranty in the business. Also stocked locally is our Safety Fence designed to enclose equipment and machine guarding to enclose machinery with moving parts to protect workers.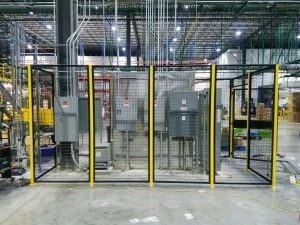 Safety fence is stocked in 4 standard sized heights with hinged or sliding doors. Feel free to use our Complimentary Layout Form or give us a call P(888)963-5355. The most versatile welded wire security cage is our 8ga galvanized steel cages with all welded grid openings. The framing/post create sturdy long term secure enclosures. Our posts are made with 2″ x 2″ x 1/4″ thick with 2″ x 6″ welded foot plates. Ideal to secure inventory and create perimeter barriers.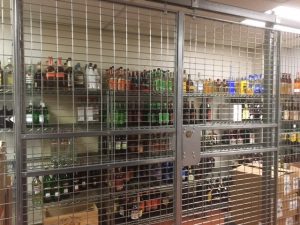 Backed with a five year warranty on the security cages and labor.  Our 8ga steel security cages is available in durable galvanized or 5 other powder coat colors, Any size cage can be created with our modular design. Available for immediate delivery and installation.
Standard locks include steel encased cylinder locks or welded hasps for padlocks. Other locking options are also available in push button, card swipe, key fob, Mag locks and also interior push bars.
Contact us today for immediate assistance. Our office is open Monday through Friday 7AM – 5PM and 8AM – 4PM on Saturdays. Sales@LockersUSA.com or P(888)963-5355. Complimentary Layout Form.
Storage Cages Daytona Beach, Security Cages Daytona Beach, Machine Guarding Daytona Beach Florida, Robotic Caging Daytona Beach, DEA Pharmaceutical Cages Daytona Beach, Tenant Storage Cages Daytona Beach. Pallet Rack Caging Daytona Beach. Liquor Cages Daytona Beach. Storage Cages Daytona Beach Florida. Areas served daily Altamonte Springs, Apopka, Boca Raton, Boynton Beach, Bradenton, Brooksville, Clearwater, Coral Gables, Coral Springs, Daytona Beach, Deerfield Beach, Delray Beach, Fort Lauderdale, Fort Myers, Fort Pierce, Fort Walton Beach, Gainesville, Hallandale, Hialeah, Hollywood, Jacksonville, Jupiter, Kissimmee, Lake Mary, Lake Worth, Lakeland, Largo, Longwood, Melbourne, Miami, Naples, New Smyrna,  Ocala, Oldsmar, Opa Locka, Orlando, Ormond Beach, Panama City, Pensacola, Pinellas Park, Plant City, Pompano Beach, Port Orange, Saint Petersburg, Saint Augustine, Sanford, Sarasota, Stuart, Tallahassee, Tampa, Vero Beach, West Palm Beach, Winter Park.