Cannabis Storage Cage NY. Comply with New York State's OCM storage requirements for Retail dispensaries, Cultivators, Processors, Lab and Medical facilities. Proudly serving New York since 1909. Our Techs take the stress out of ordering a OCM Cannabis Storage Cage in NY. We provide Complimentary Code Compliant Layouts and quote either online or onsite.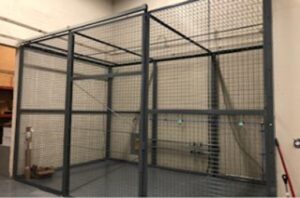 Compliant Cannabis Storage Cage in NY isn't expensive. Following the exact guidelines with the correct storage cage and code compliant installation is all that is needed.  Cannabis storage cages should be four sided, with ceiling in 10ga thick welded wire material. The cage when installed must have no sweep.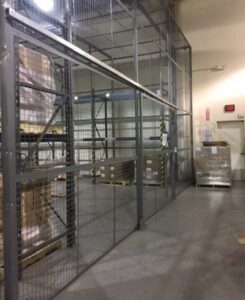 All fasteners, Connections must be anti-theft or welded. Doors can be single or double doors in hinged, Single Slide doors can be also be used or bi-parting double slide doors. Either door must be self closing. LockersUSA a long term manufacturer and wholesaler of DEA compliant cages for the Pharmaceutical industry understands NY State's code. We take every measure to have your cannabis storage cage passing inspection the first time. We are with you as an unpaid trusted consultant from concept to completion.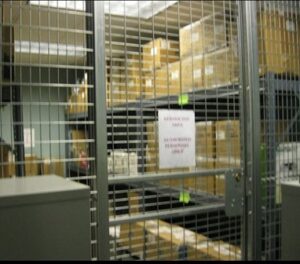 Tremendous savings from buying from LockersUSA.com, We ship from our 120,000SF New York distribution center. Substantially reducing expensive delivery charges. Freight charges for cannabis cages can be expensive, The pallets are typically 8′ long, With an average weight of 960 pounds. Arriving from the middle or western US would be expensive. In fact freight charges cost almost as much as some cages.  Our team delivers from our local facility, Off loads and brings the cage material inside, Then installs the cannabis cage. Our team is here to be of assistance. We provide complementary layouts, Professional installations and assure you pass inspection quickly. Contact is today for immediate assistance email us at Sales@LockersUSA.com  or Phone (917) 701-5795.
Cannabis Storage Cages delivered daily to NYC, Brooklyn, Queens NY, Staten Island, Bronx, Hempstead, Buffalo, Yonkers, Brookhaven, Islip, Rochester, Albany, Long Island, Westchester, All of New York State