Conveyor Guarding Safety Cages Cranbury.  Prevent serious injuries around conveyors with Conveyor Perimeter Safety Fence. Designed to prevent unauthorized access with easy access when maintenance workers need access to the machine, quickly remove the panel from the posts and the bracket system stays attached to prevent any misplaced hardware or lost down time.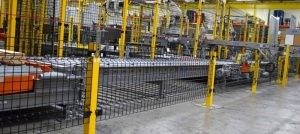 Simply drop the panels into the post brackets and it locks in place with simple tightening. Conveyor guarding safety fence offers a wide array of panel sizes, door options, and locking hardware to cover every requirement.  Conveyor barrier safety cage will help you meet OSHA and ANSI/RIA R15.06-2012 safety standards.Panels: 10-gauge welded-wire mesh with 11/4" x 21/2" grid openings. Wire mesh framed utilizing 14-gauge 11/2" x 11/2" steel angle.Brackets: Galvanized finish. Attaches to posts for a universal configuration. Doors stocked in Hinged, Hinged Pair, Clear Access Slide, and Clear Access Slide Pair. Equipped with pull handle. Standard locking devices: Key Lock, Interlock Handle, or Snaplocks. Our machine guarding team provides Installation or we can show your staff how to install at no charge, All installation hardware supplied. Finish: Panels are medium gloss black powder coated.  Posts yellow powder-coated. Other powder-coating colors also available.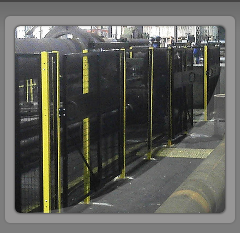 Conveyor Guarding Safety Cages Cranbury provides code complimentary layouts Onsite or email us your drawing for fast complimentary service. Sales@LockersUSA.com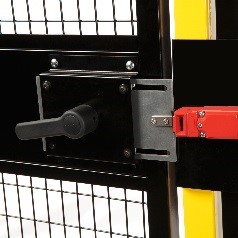 LockersUSA.com stocks locally from our 109,000SF facility. Also in stock is machine guarding safety fence to enclose electrical equipment, Motors, Pumps, Machinery. Security Cages, DEA Pharmaceutical Cages, Server and Co location Cages. in powder coated medium gloss black, gray or galvanized. Other powder coat colors also available. heights range from 6′ high to 48′ high.

Our Safety Fence Techs are a phone call away contact us for immediate assistance. P(917) 701-5795.
Conveyor Guarding Safety Cages Cranbury, Conveyor Perimeter Safety Fence Cranbury. Machine Guarding Cranbury, Machine Guarding Safety Cages Cranbury NJ, Conveyor Safety Fence Cranbury NJ 08512. Conveyor Guarding Safety Cages delivered daily to Cranbury, South Brunswick, Robbinsville, East Windsor, Pedrickstown, Edison, Bordentown, Secaucus, Lumberton, Jersey City, New Jersey.