Security Cages Rahway. Ideal for secure, Visual Storage, Tenant Storage, Tool Cribs, Perimeter Walls. Complimentary Layouts, Stocked locally.  Manufactured with Framed Welded Wire or Woven Wire in 8ga or 10ga in Powder coat gray, black or rust resistant galvanized.  Six other powder coat colors also available within 30 days. Security Cages can be installed easily up to 24′ high. P(917) 701-5795.
Doors range from single hinged or single slide to double bi parting doors from 3′ wide to 12′ wide. Standard locks include welded hasps for padlocks, Cylinder locks keyed alike or keyed different with master keys. Card swipe, Push button, Key or Interchangeable cores to match your existing system.

Additionally, Interior push bars, Magnetic locks, Electric strikes and Automatic door closers can also be included. Security Cages existing and new can also have service windows installed manufactured in the same material as the cage or solid steel with exterior counter. The service window locks when not in use.
Service Windows help keep the inventory secure and reduce traffic in the cage. Security cages can also create perimeter walls to prevent unauthorized access to restricted areas. Doors can be set up to be opened from the security desk or supervisors desk with an electric strike or key pad or push button lock.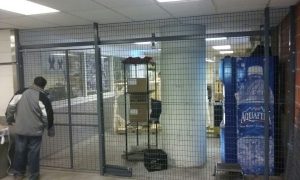 LockersUSA Security Cage specialists provide Complimentary Layouts six days a week. Either online or onsite.  Contact us today for immediate assistance. Sales@LockersUSA.com or P(917) 701-5795.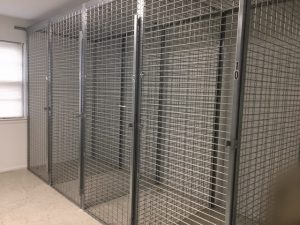 Tenant Storage Cages stocked in single tier – full height door and double tier – stacked doors in Powder Coat medium gloss black, gray and rust resistant galvanized Complimentary Layouts.
LockersUSA also stocks DEA Pharmaceutical Cages, Server – Data Room Cages, Machine Guarding – Safety Fence and Tenant Storage Cages.
Security Cages Rahway, Tenant Storage Cages Rahway NJ, Tenant Storage Cages Rahway, Storage Cages, DEA Pharmaceutical Cages, Server Room Cages, Data Room Cages, Tenant Storage Cages, Wire Partition Cages Rahway, Wire Partition Cage service windows NJ,  Machine Guarding Cages,  Security Cages Rahway NJ 07065. Security Cages delivered daily to Rahway, Linden, Eleizabeth, Edison, Woodbridge Twp, Carteret, Newark, Jersey City, New Jersey.