Security Cages Piscataway. Since 1909, Stocked locally, Complimentary layouts. Widely used for Warehouse Cages, Data Center Cages, Tool Cribs, Inventory Cages,  DEA Pharmaceutical Cages, Perimeter Walls. Manufactured with 8ga or 10 ga welded wire in powder coat black or gray. Security Cages can be built easily to 24ft high. Doors stocked in Single Hinged and Single sliding, Double Hinged doors and double bi parting slide doors.,  from 3′ wide to 12′ high.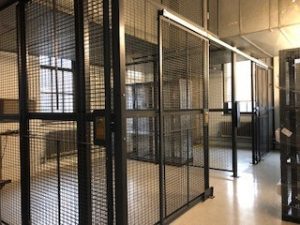 LockersUSA provides complimentary layouts six days a week. Either online or onsite. LockersUSA also stocks machine guarding safety cage, Tenant Storage Cages and Pallet Rack Cage enclosures in Welded Wire, Woven Wire Partitions in rust resistant galvanized, or five standard powder coat colors. Lock options for doors include welded hasps for padlocks, cylinder locks keyed different or keyed alike, Push button, Card Swipe and Key fob. Electric Strikes, Mag locks.
interior push bars can also be included. We can also have the cores match your existing system. Security Cages can also include service window kits to issue materials with without opening the cage. The service windows can be installed with a new cage systems or easily installed into an existing cage partition wall.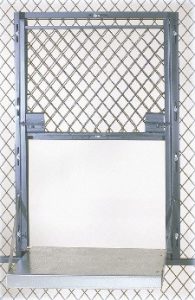 Each Service window has a counter ledge for signing documents when issuing inventory. Interior lock bars included top and bottom. Security cages can be built to standard heights with or with ceilings. The system is supported with heavy duty posts 2″ x 2″ x 14ga x the height needed with 2″ x 6″ welded foot plates. Data Room Cages can be built to the drop ceiling or the very top. The cage can also be installed under the access floor when requested.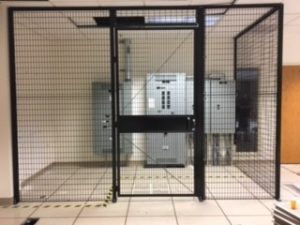 DEA Pharmaceutical cages have 4 sides and a code compliant ceiling. Doors in hinged or sliding will meet code. Contact us today for immediate assistance. Sales@LockersUSA.com or P(917) 701-5795.
Security Cages Piscataway, Woven Wire Partition Cages Piscataway, Data room Cages Piscataway New Jersey, Tenant Storage Cages, Pallet Rack Cage Enclosures. Machine Guarding Cages, Security Cages Delivered daily to Piscataway, South Plainfield, Edison, Perth Amboy, Sayreville, Woodbridge, Union NJ, all of New Jersey.