Security Cages New York City.  Next Day Delivery, Lowest overall cost. Lifetime Warranty. Welded wire security cages delivered daily in the 5 Boroughs and NJ.  Manufactured with 4ga, 6ga, 8ga and 10ga framed welded wire. Provides secure, visual storage and enclosures.  Welded wire security cages are widely used for inventory, equipment enclosures, Perimeter barriers, Tenant Storage Cages, DEA cages, Server and Data Room Cages. Our modular designed welded wire cages allow us to provide all cage sizes at standard pricing,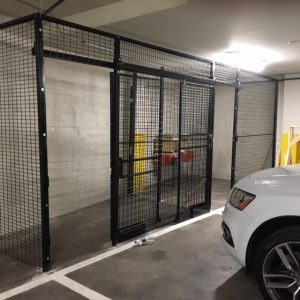 Eliminating the high custom costs. Doors are stocked in hinged, sliding and bi-parting hinged, With welded hasps for padlocks, cylinder locks, push button locks, card swipe and key fobs. Magnetic locks and hydraulic door closures can also be added. Throughout the 5 boroughs security cages are used to protect inventory. Hotels, Restaurants use security cage to enclose liquor, silverware, linens and equipment.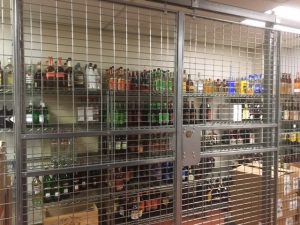 Tenant Storage Cages Generate Revenue. when residential buildings provide on site tenant storage, Its a win – win for landlords and residents. Today most residential co-ops, condo's and apartment buildings charge a monthly rental fee for each cage. If a building rents out 50 tenant storage cages at $90.00 per month. The tenant storage will generate $54,000.00 per year in revenue. On average the tenant storage pays for itself in just 7-8 months.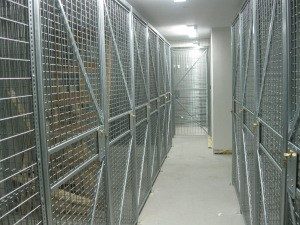 Tenant Storage cages are stocked in Manhattan for residential and commercial buildings made with welded wire steel with hinged doors in most sizes. LockersUSA provides complimentary layouts either online or on-site. Contact us today for immediate assistance. Sales@LockersUSA.com or P(917) 837-0032.
Security Cages NYC – Brooklyn – Queens – Bronx – Harlem, Wire mesh partitions, Tenant storage cages, Server Cages, inventory cages, storage cages, liquor storage cages. Daily deliveries to NYC, Brooklyn, Queens, Bronx, Staten Island, Harlem.