Security Cages Cranbury NJ. Proudly serving New Jersey since 1909. Welded wire security cages stocked locally, Free delivery. Complimentary layouts, Professional Installations. Manufactured with 8ga welded wire in Rust Resistant- Durable galvanized and Powder coat medium gloss black or gray. Doors stocked in Single Hinged, Single Slide, Double Hinged and Bi-Parting double slide doors. Lock options include welded hasps for padlocks. Cylinder locks, Programmable Locks (Push Button, Card Swipe, Key fob). Additionally interior push bars, Electric strikes, Magnetic Locks and Auto door closers can be included.  Security cages can be built easily with our pre-engineered modular stacking panels to 48′ high.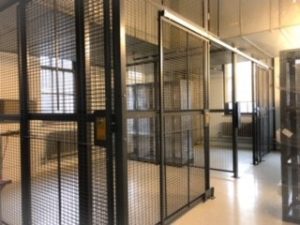 Most security cages today are ordered 8′ high with or without tops. We stock doors and panels that allow heights from 7'h and up. Our 109,00SF facility provides complimentary security cage layouts daily. Either online or onsite. Feel free to use the easy to fill out form above or contact us for immediate assistance.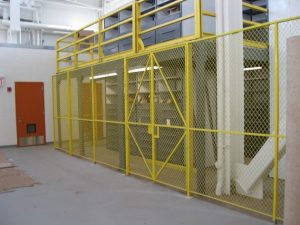 Security Cages Cranbury NJ costs can be reduced by incorporating the rooms back and or sidewalls. IE: If common walls are used, 4 sided cages can be reduced to 3 or sided cages if the rooms back wall is used as a side.
LockersUSA.com also stocks in New Jersey Server – Colo Cages, DEA Pharmaceutical compliant cages, Machine Guarding Safety Fence, Bulk welded wire storage cages and welded wire perimeter cages.
Our welded wire cages have welded grid openings 1-1/2″ x 3″ with over 500 welded per 4'h x 8'W panel. We also stock 8 &10ga panels with 2″ x 1″ grid openings and 2″ x 2″ welded wire grid openings. Our techs can assist with the best choice needed based on your application. 8ga is thicker than 10 and 12ga.
Contact us today for immediate assistance. Our NJ office if open Monday through Friday 6AM – 5PM and Saturdays 6AM- 4PM. Sales@LockersUSA.com
Security Cages Cranbury NJ, Wire Partition Cages Cranbury NJ, Woven Wire Partitions Cranbury NJ, DEA Pharmaceutical Cages Cranbury NJ, Server Cages Cranbury NJ, Machine Guarding Cage Cranbury NJ. Security Cages delivered daily to Cranbury, Hamilton, Ewing, Trenton, Bordentown, South Brunswick, West Windsor, East Windsor, New Jersey.