Security Cages Bronx. Complimentary Layouts, Fast Quotes, Stocked Locally, Quick Delivery. Welded Wire Security Cages in the Bronx. Manufactured with Framed Welded Wire Cage Panels and Doors. In 8ga steel in Durable Galvanized or 5 free powder coat colors. Security Cages Bronx stocks Single hinged doors 3′ wide, 4′ wide. Single Slide Doors 3'w, 4′ wide, 5′ wide and 6′ Wide. Double Signed doors 6′ wide opening and 8′ wide opening and bi parting double slide doors up to 12′ wide.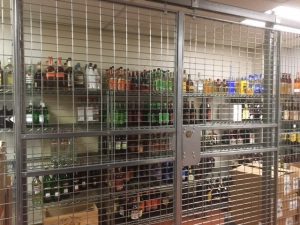 Ideal for creating secure, visual perimeters, Tool Cribs, Equipment Enclosures, Inventory Cages, DEA Cages, Tenant Storage Cages, Server and Data room Cages. Our Bronx Team provides complimentary layouts, Professional installations six days a week. Costs can be saved by utilizing existing common back and side walls, Reducing the amount of caging required.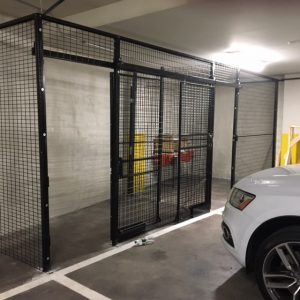 Stocked Security Cage Heights from 6′ high to 24'H or welded wire cage tops can be installed at any height.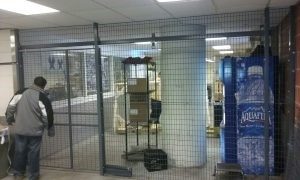 Doors are stocked with welded hasps for padlocks, Cylinder locks, Mag Locks, Card Swipe, push button and key fob. Interchangeable cores can also be provided to match existing systems. LockersUSA also stocks Machine Guarding Safety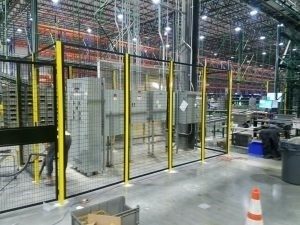 Fence and Equipment Enclosures. Our Safety Cage Techs provide free code compliant layouts daily. Contact us now our facility is open Monday through Friday 7AM – 5PM, Saturday 7AM-1PM. Sales@LockersUSA.com or P(917) 701-5795
Security Cages Bronx, Bronx Security Cages, Security Cages Bronx NY, Woven Wire Partitions Bronx, Expanded Metal Security  Cages Bronx, Machine Guarding Bronx, Machine Guarding Safety Fence Bronx, Tenant Storage Cages Bronx, DEA Cages Bronx, Security Cages in Bronx, Server Cages Bronx, Equipment Enclosures Bronx, Security Cages Daily Deliveries to Bronx, Flushing, College Point, Yonkers.