Security Cage Edison NJ. Welded wire storage cages stocked locally in our 109,000SF facility.  Manufactured with 8ga thick framed welded wire, In rust resistant Galvanized, Gray or Black. Other standard powder coat colors also available. Doors stocked from 3′ wide to 12′ wide with cylinder locks (keyed alike or keyed different) with master keys for management. Programmable locks available in card swipe, push button and key fob. Interior push bars can be installed at our facility prior to arrival. Magnetic locks and Electric strike can also be installed on request. Automatic door closers can be included with sliding doors.  Reduce purchasing cost by incorporating the rooms existing side and back walls as part of the storage cage enclosure. Most security cage in Edison NJ requested are 8′ high. Our pre-fab modular stacking cage panels allow out install teams to build cages up to 48′ high quickly. Cage tops can also be included.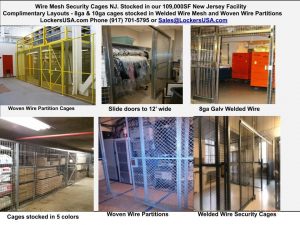 Our team provides Complimentary Security Cage Layouts. Feel free to fill out the form in the above link or give us a call for immediate assistance. Our office and distribution center is open Monday through Friday 7AM to 7PM. (917)701-5795.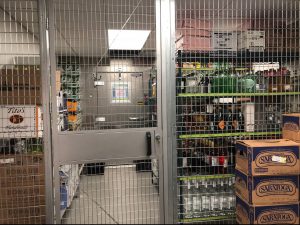 LockersUSA also stocks locally Tenant Storage Cages, DEA Cages, Machine Guarding Safety Fence, Drivers entrance cages, Welded Wire lockers and Server-Data Room cages. Our Tenant Storage Cages inventory includes single tier – full height lockers and two tier – stacked doors in 48 standard sizes. Manufactured with 4ga thick welded wire in rust resistant galvanized, gray or black.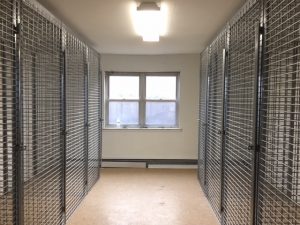 Most developers, landlords, Apartments and Condo boards have the storage cages attached directly to the rooms walls and floors. Backs tops, floors, shelves can be included upon request. Tenant Storage Cages in New Jersey generate excellent revenue. Most residential buildings rent out storage cages from $75.00 to $150.00 per month. A building with just 6 cages renting out for $125.00 per month will generate $9,000.00 per year in revenue with an ROI in just over six months. Our team provides complimentary tenant storage cage and security cage layouts daily. Contact us today  for immediate assistance. Sales@LockersUSA.com
Security Cages delivered daily to Edison, Avenel, Woodbridge, South Amboy, Sayreville, Aberdeen, Elizabeth, Perth Amboy, All of New Jersey